Strength WOD:
Deadlift 1RM
* Find your 1 Rep Max in 25 Minutes. When the time stops your attempts stop.
Check Out WOD Immediately After:
5 Rounds for Time:
10 Weighted Walking Lunges (40#/25# Dumbbells or sub KB's)
15 Kettlebell Swings (53#/35#)
Results
View this photo
View this photo
"Strong people are harder to kill than weak people, and more useful in general" – Mark Rippetoe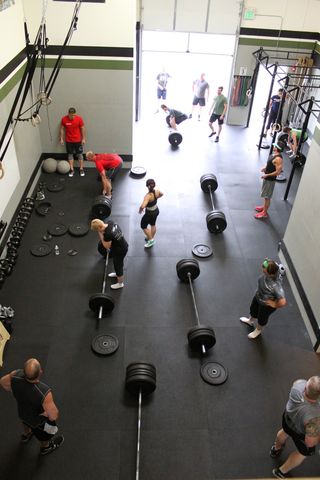 You are all strong people! 31 PR's today is no joke! Congrats to everyone today whether you hit a PR or not. Weight was moving all day and I bet our neighbors were really pleased. If they complain I'll just tell them we will stop when they come in and deadlift with us. We don't test the 1 rep max often in many lifts; as you get stronger through higher rep scenarios. This lift though was overdue for a test, as Pat kept reminding us. A few highlights from the day:
2 new people joined the 500# club; Pat and Jim C. each lifted a 1/4 ton with Pat topping out at 510#
13 women broke 200#, with Lorraine (275#) and Lucy (255#) topping 250 lbs.
We ran out of bumpers and metal plates in the 5pm class today!
Did I say 31 PR's total!
Pat hits 510# with the help of duct tape collars: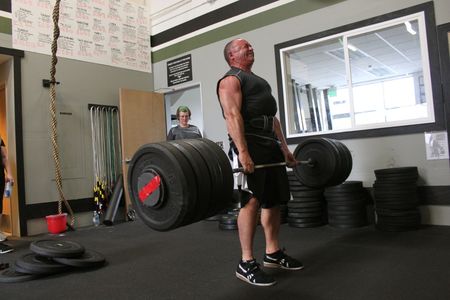 PR lifts: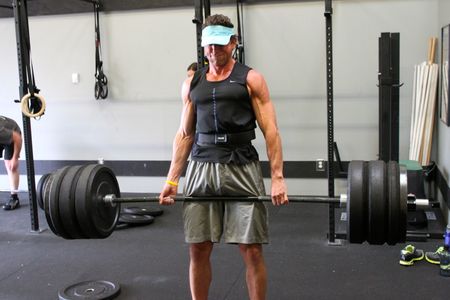 Notes:
Mobility Class with Rona was tonight and it was a good one. Attention dudes! Come to this class. You need this. Also I do not enjoy being the only guy. While the ladies group conversation was entertaining, it was also shall we say…unique. Sign up for the next class. I beg of you.
*Reminder the box is CLOSED this Saturday 6/25 as we are hosting the CF Gymnastics Trainers Course*
When you hear "get mad at the bar" this is what I mean: