Skills WOD:
10 minutes Muscle-up practice
Conditioning WOD:
21-15-9 reps of each for time: 
Front Squats (95#/65#)
Burpees
Chest-to-bar Pull-ups 
Results
View this photo
View this photo
View this photo
Yay Burpees: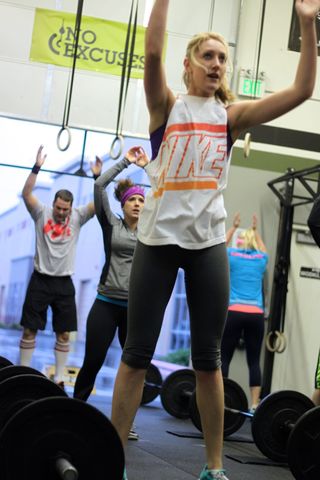 "The Kipping Muscle-Up" with Laurie Galassi, CrossFit Journal video [wmv] [mov] [HD mov]
Yesterday this video was posted on the CrossFit Journal and seeing the progression using the kip-up with the rings was perfect timing for today as I had programmed muscle-up practice for the week. Having never tried a kip-up as part of the MU progression on the rings (I have seen the kip-up for teaching kipping pull-ups), we were anxious to try this today.
Verdict: It works very well. Two people today got their 1st (and then 2nd, 3rd etc.) muscle-ups after practicing kip-ups supine on the floor, then kip-ups from a supine position under a pair of rings on the cage to a dip position, then finally over to the rings. Congrats to Justin and Evan for achieving a big milestone with their first muscle-ups! Both of them already had a ring dip, strict pull-up and could hold a dip support and lockout position on the rings. They also have been practicing MU progressions from the floor and kipping swings on the rings (both false and no false grip). Today the pieces all fell together for them.
Several others (guys AND girls) who already had muscle-ups also improved their kip, hip extension and turnover after drilling this several times and got "over" quicker. Keep practicing this and don't abandon the floor drill with the kip-up. Use it as movement prep for muscle-ups to get the neuromuscular system primed and ready, and improve your proprioception and kinesthetic awareness.
If all else fails "just pop up"!
Justin locks out his first muscle-up:
CF Games ExerciseCenter:
"CrossFit Games Update: March 19, 2013" – [video]
Tomorrow at 5pm PST we will learn what Open WOD 13.3 has in store for us! 2010 Games Champion Kristan Clever vs. 2012 third-place-finisher Talayana Fortunato.