10 Rounds for time:
3 Snatch (135#/95#)
15 Wall Balls (20#/14#)
* Power or Split snatch recommended
Results 
View this photo
View this photo
Full Squat Depth and Perfectly Coiffed: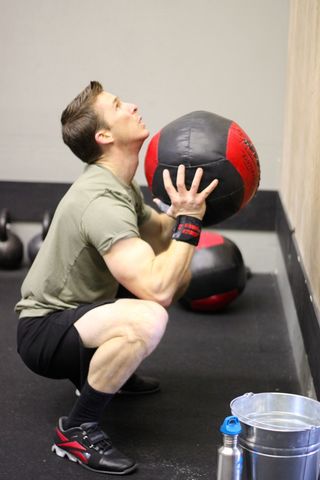 "Karabel" is a mash-up benchmark WOD of Karen (150 Wall Balls at 20# men/14# women) combined with Isabel (30 Snatches at 135#/95#). It's a brutal combo and fitting for what was supposed to be the end of the world. Why not do a couple benchmarks in one day if it's going to be your last CrossFit workout ever?
Power Snatch with Christa and Sean:
Keep the barbell close to the legs/body as you rise off the floor 
Sweep it back towards your thighs/hips as you rise over the knees
Arms are long straps and you should shrug hard at the top of the pull over the knees (don't bend the arms early)
Explosively jump, turn your hands over and pull yourself around the bar
Land partially in a squat with knees bent and out
Don't jump wider just pull under faster and land lower as the weight gets heavier or you fatigue 
Mobility:
"Avoid A-Rod's Hip Injury" by Men's Health
Good to see "mainstream" fitness outlets getting smarter. It's only taken how many years for Men's Health to figure out that squatting below parallel is good for you?! They also do a half decent video demo (he doesn't reach full depth but it's close).
"The Exercise That Boosts Your Vertical Jump" by Men's Health