For Time:
150 Wall Balls (20#/14#) 
Results
Benchmark day! Who loves wall balls? Congrats to all of you for pushing through a WOD that looks easy on paper and jumps up and bites you around 30 to 40 wall balls in. This WOD makes me nervous every time I do it. Each rep becomes harder and more painful. By 150 the legs and shoulders are on fire right there with the lungs. Even though it's a short workout it is hard. Painfully hard. 
Full range of motion is key and not only hitting the target (10ft. for men and 9 ft. for women) is required but also fully squatting to ensure the hip crease drops below the knee. To help with that today we employed "peer coaching". I even coached, I mean harassed Michelle through her shot at Karen. We like this because it allows each of us to have not only a counter and spotter, but also someone to help push you through when you want to rest or take a break. We all got to take turns as "judges" for each other and that builds a stronger gym. When each of us are accountable for what "right looks like" we are all better off for it.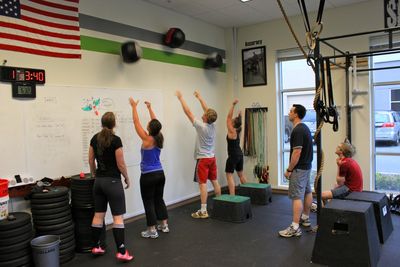 Coaching Tip: The Deadlift with Jenna – Maintain a lumbar curve and tight core, shoulders and hips rise together, shoulders in front with scapula over the bar, and weight in the heels.  The bar should rise straight up the shins as you stand. Fully open the hips at the top.
Notes:
Jessica Pamanian's (2nd Place finish overall) inspiring 170lb x 3 Clean and Jerk at the Northeast Regionals by CrossFit Again Faster – video [wmv] [mov]
Memorial Day Weekend Schedule: 
Saturday will be normal class schedule and the first 8 who sign up for 10am get priority (Right now only 2 spots left!)
Sunday closed
Monday schedule is: 0930 and 1100 class times 

only.

 We will honor those who served or paid the ultimate sacrifice by allowing you to choose a Hero WOD (out of three choices). The start times are to account for a potentially larger group and longer WOD times. Each Hero WOD will be something different and likely not one we have done previously. We will publish them on Saturday or Sunday to allow you to pick.
Mark and Jeremy decided today would be the day where they wake up, call each other to coordinate outfits, and then do the same WOD. That would be the "Chipper of Doom" AKA the last WOD from the Northwest Regionals that included epic climbs and falls. Pics follow: