5-10-15 Reps Each For Time:
Back Squats (225#/155#)
Box Jumps (24″/20″)
Results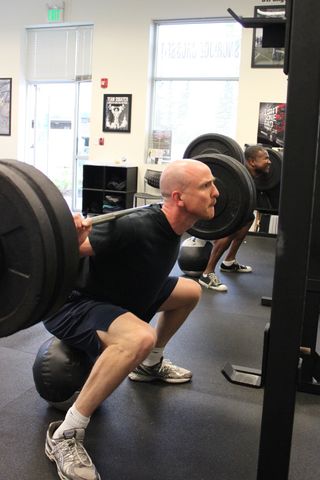 We made the CrossFit main page today for the first time for our Fight Gone Bad event last Saturday! Check it out here!
Today we ran the last make-up session for those who could not make it this past Saturday to our Fight Gone Bad 5 event. Thanks to those who helped with judging and to those who did the regular 5pm WOD with Moe outside so we could run this "fighters" inside. As a gym we raised over $3500 with the final few donations that came in today. ALL of the money that was donated in person from our event has been donated to Sportsgrants to benefit The Wounded Warrior Project, Livestrong, and the CrossFit Foundation. 
Notes:
Several of you are still in the Whole 30 Challenge. Keep hanging in there and stick through that final week. You made it this far! I even had to make an intervention for Michelle tonight over a tasty margarita. Which is why I may end up sleeping in the gym…
Take your warm-up seriously! 
"Warm-up Like An Athlete" with Chris Michelmore, CrossFit Journal Preview [wmv] [mov]