Strength WOD:
Establish a 3RM Back Squat in 15 minutes (Partner up on a rack)
Checkout:
"Last Ascent"
5-10-15 Reps Each For Time:
Back Squats (225#/155#)
Box Jumps (24″/20″)
Results
Moe Racked and Ready: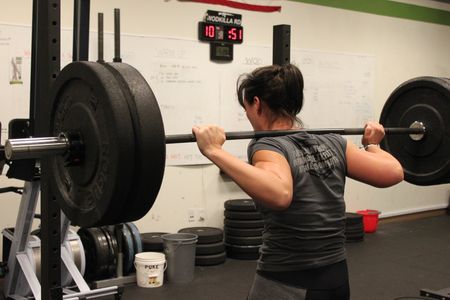 CF Santa Cruz Member celebrates his 50th birthday with a WOD of weighted pull-ups and hip extensions. [wmv] [mov]
Two things to note in here:
1) Back, Hip, and Hip-Back Extensions demo
2) Note the attention to getting a legit pull-up no matter how many he fails to get his chin over the bar. He simply won't count slop. The lesson? Don't count the garbage. Do it right or don't do it! I love his determination.
Notes:
Reebok and CrossFit have recently entered into a licensing partnership.  The Reebok corporate HQ now has their own CrossFit gym for their employees: