As a Team of 2 Complete for Time: 
40 Deadlifts (225#/155#)
40 Chest-to-bar Pull-ups
40 Up And Over Box Jumps (24″/20″)
40 Ground To Overheads (135#/95#)
4 Rope Climbs 15 ft.
* One barbell per team, deload for GTO. One athlete works at a time, alternate as needed.
** Sub 2 Supine Climbs to 1 Rope Climb 
Advanced RX Class:
Strength WOD: 
1-1-1-1-1
Deadlift
Conditioning WOD:
"Lee"
5 Rounds for time:
400m Run
1 Deadlift (345#/225#)
3 Squat Cleans (185#/135#)
5 Push Jerks (185#/135#)
3 Muscle-ups
1 Rope Climb 15 ft.
Results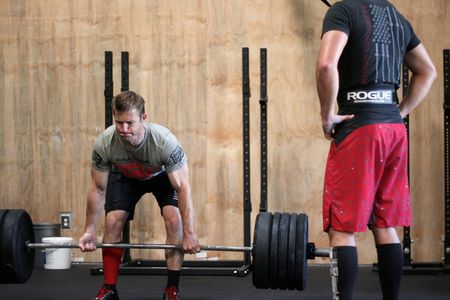 U.S. Army Staff Sergeant Dick Alson Lee Jr., 31, of Orange Park, Florida, assigned to the 95th Military Police Battalion, 18th Military Police Brigade, 21st Theater Sustainment Command, based in Sembach, Germany, died on April 26, 2012 from injuries sustained when his vehicle encountered an improvised explosive device in Ghazni province, Afghanistan. He is survived by his wife Katherine, sons Joshua and David, mother Brenda and her husband Larry Carroll, father Dick Sr., sister Specialist Vanessa Compton, and brother Michael Carroll. ~ crossfit.com
Saturday's team WOD was something I borrowed and tweaked from watching the NPGL first match between New york and LA.  Overall some cool team workouts. 
Second CrossFit Team Series Event announced – [video]
So far two events have been announced for the CrossFit Team Series that begins this week. There are 7 teams participating in the RX, Scaled and Masters Divisions.
Team Series will occur over Aug. 28, Sept. 18, Oct. 9 weekends
Teams are 2 men and 2 women
Cost: $100 each team ($25 per person)
Workouts will be announced Thursday prior to each weekend
Multiple workouts should be expected each weekend
Team Captains need to make sure they get their teams registered and email addresses for the team members to invite them to join
To enter validated scores as a team you must opt-in on the registration website (Each team should opt-in, otherwise it's like you're that person that is running a race without paying the entry fee)
How will we run this for teams?
All workouts for a given competition to be released on Thursday at 17:00 PT (or earlier). Teams will have until the following Monday at 17:00 PT to validly complete the workouts and submit results online. This is the team Captain's responsibility.
As a team you may plan according to your schedule what class times you are all available to complete the WOD's by the deadline. You MUST fit these into our class schedule. No exceptions for special class times should be expected or requested!
I may or may not program one of the team events as a normal Saturday workout over the three weekends. If your team has already done it you can do a different workout.
Arrive as a team for class, complete the required warm-up, then you must coordinate with the coach for neccessary space / equipment needed. Note that the CLASS gets priority on equipment and space! Be prepared to stagger, move outside, or share space with another team as needed.
You may space the workout(s) out over multiple days or do some back to back. See above for when you can do them.
You must complete the workout(s) as a team together according to the rules and standards published on the CF Games site.
Each team must use a judge during the workout. You can use your teammates where the logistics support it. 
Team Captains MUST be completely familiar with the WOD standards and requirements.
Rules can be found here.
Have fun! Remember this is supposed to be fun, there is no pressure or anything to stress over; it is no different than any other team workout that we do every…single…Saturday. Please do NOT send me a list of 7,183 questions asking what the standard for a single-under is, what a chest-to-bar pull-up means and what you should do if the weight is too heavy for you. You already know the answers.  The ONLY acceptable workout related question I can think of is "What's a thruster?"

Just in case the answers are: Jump rope goes under the feet ONCE, chest TOUCHES bar, and if you are asking the final question you need to GET STRONGER (I'm kidding. Sort of.)

No filiming of any WOD's is required since we don't need to take the prize money from Camille and Froning. The rest of us all have full time jobs.
If you have made it this far then you absolutely should NOT ask me WHEN your team can do the Team Series WOD's. 
 ** Last Note**
For this week only due to Labor Day travel plans impacting some of the team members participating, you may begin tackling the published WOD's on Wednesday as a team but cannot enter your score until Thursday. Pick a class time and coordinate accordingly.