Main Class:
As a Team of 2 complete for time: 
100 Kettlebell Swings (53#/35#)
50 Burpees
30 Toes-to-bar
30 Front Squats (135#/95#)
30 Toes-to-bar
50 Burpees
100 Wall Balls (20#/14#) 
* Partner up, share reps but alternate exercises in order
** One bar, one KB, WB
Advanced RX Class:
Strength WOD:
EMOM (Every Minute On The Minute) for 10 minutes complete:
1 Snatch (80% of 1RM)
Conditioning:
For time:
21-15-9 reps of each for time:
Overhead Squats (115#/75#)
Toes-to-bar
Results
View this photo
View this photo
"Umm Lisa what are you looking at?"
Thanks Rob for lending a hand and coaching my Saturday class since I broke my hand on Friday night. Fluke break doing handstand walking in my checkout WOD. I deliberately avoided mentioning "CrossFit" while at the ER to avoid hearing any "oh that stuff is dangerous" stories.
Michelle and I would also like to give a big Festivus filled thank you to everyone of you for the gift you all gave us. A gift certificate to both Rogue Fitness and the Salish Lodge and Spa are better than anything under the Festivus Pole! Plus the "Always Late But Worth the Wait" license bracket for M is spot on. It was unexpected and very much appreciated. We feel extremely blessed and hope everyone has a happy and healthy holiday and look forward to another kick ass year in 2013.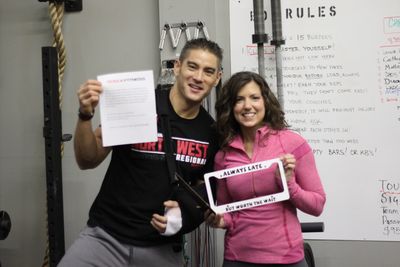 See you all tomorrow for the Festivus Feats of Strength (aka 12 WOD's of Christmas at SRCF!)! Wear a Christmas sweater or something that screams jingle BAM!
The 0830/0930/1030 classes are full. Show up at 1130 if you didn't sign up already.
Coming Back to Canada: CrossFit Games athlete Camille Leblanc-Bazinet ready to get back to Canada East.