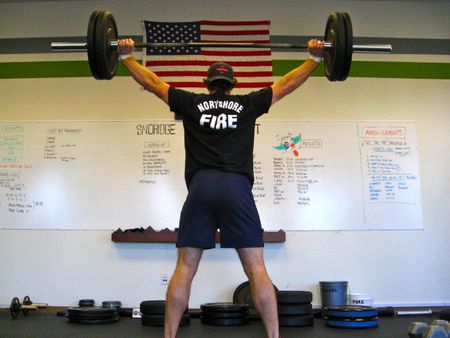 (Pat from CF Tacoma dropped in with the crew from The Compound on Mercer island: Mark, Jeremy and Kim)

Today was the Ft. Hood Memorial Lumberjack 20 workout.
For Time:
20 Deadlift (275#/185#) / 400m Run
20 Kettlebell Swing (70#/53#) / 400m Run
20 Overhead Squat (11#/85#) / 400m Run
20 Burpees / 400m Run
20 Chin to Bar Pull-ups (275#/185#) / 400m Run
20 Box Jumps (24″/20″) / 400m Run
20 Dumbbell Squat Clean (45#/30#) / 400m Run
Results
From CrossFit.com: "On Nov. 5 at 1:34 p.m., a terrorist named Major Nidal Hasan attacked fellow soldiers and civilians at Fort Hood, Texas. When the shooting ended, he had killed 12 soldiers and one civilian and wounded 43 others.
Spc. Frederick Greene, 29, of Mountain City, Tennessee, Pfc. Aaron Thomas Nemelka, 19, of West Jordan, Utah, Pfc. Michael Pearson, 22, of Bolingbrook, Illinois, and Spc. Kham Xiong, 23, of St. Paul, Minnesota, along with eleven of the wounded were active CrossFitters in the 20th Engineer Battalion, home to Lumberjack CrossFit.
This workout is in honor of these soldiers, one month after the murderous rampage."
The rest of their unit is deploying to Afghanistan in January. We are hoping you will donate on behalf of these soldiers and their families. Benefits go to them as a small gesture of help and support. Every dollar counts. For all who donated, thank you.
It was a great feeling for Michelle and I to be able to open the doors today and know that this WOD was going to be just a little bit different. To have all of you show up and also some new friends and local CF'ers drop in from the area was even better. It was an honor for us to work out with and coach you today.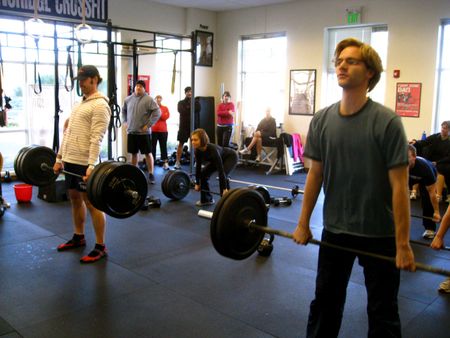 Day 10 of the Burpee Challenge!