Max Reps in 10 minutes of:
Front Squat (75#/55#)
Results

View this photo
View this photo

Rona front squatting away: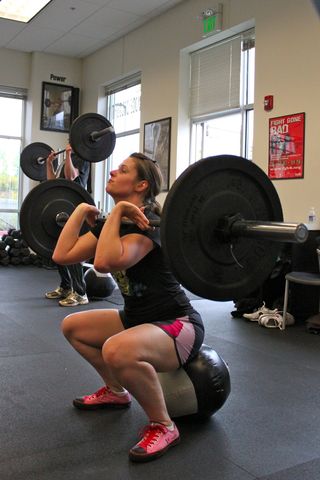 The last time we did this WOD was back in December. How did you stack up?
Coaching Tip: The Front Squat Sequence with Michelle
Clean the bar to the rack position
Air Squat stance with toes slightly pointed out
Elbows up; loose fingers
Back arched
Weight on heels
Look straight ahead
Tight core
Squat depth below parallel
Chest high
Drive out of the bottom with your elbows (i.e. "lead" with your elbows)
Judi and Warren from the 6am Gang:
Notes:
Congrats to Jim M. and Marc M. both for achieving two new major milestones today. Jim for hitting his 1 year anniversary since joining the box and Marc for getting his 1st pull-up during his warm-up! Accomplishments breed accomplishments! Keep it up you two.
Highlights from the Central East Regionals Women's Competition by CrossFit Again Faster [wmv] [mov]
*Please note some of the max rep deadlifts are not what we as your coaches would recommend for good form.