Today was make-up day for our "Test Week":
"Grace" (Sat.) 
CrossFit Total (Mon./Tue.)
5k Row (Mon./Tue.)
"Cindy" (Wed.)
For those who came in and had completed all of these you had the option to complete "Baseline"
Results
Make-Up Day: 5k Row, CFT, Cindy, Baseline and some Wendler Deads at the same time: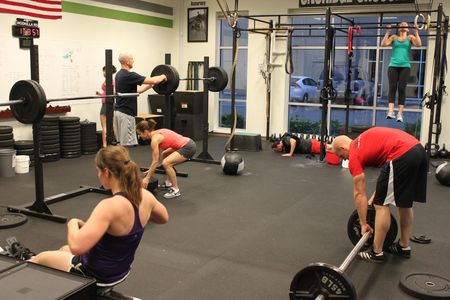 Test week is concluded! We will now return to our regularly scheduled WOD-ding.
Hope you all liked it. Tell us what you thought of this week. Positive or negative. We would like to run it again in a few months to see progress and PR's. These WOD's collectively provide a good all-around gauge of fitness across several domains and metabolic pathways.
This past week some of the top CrossFitters who are sponsored by Rogue and Again Faster met in a team head to head competition in Lake Tahoe. The videos are slowly coming out of the overall competition but this short one showcased a challenge that was 2 minutes of max rep double-unders. Dave Castro set the bar that Camille Leblanc-Bazinet, Mikko Salo, and Graham Holmberg all tried to beat. The top score was 200 reps by Holmberg.
CrossFit's Elite vs. Double-Unders [wmv] [mov]
Today several of us tried it. There were pretty good numbers for all but Sean slayed it. Just crushed it. He completed 216 reps in 2 minutes. I should make him do it again on video.
Coaching Tip: "Having Fun In the Box"
There are many ways to have fun. Try this method.
Grab a partner
Have them stand directly behind you
Dance like clowns and laugh
Ensure that it looks like you have four arms
Take pictures and post to web so others can make fun of you
Notes:
Welcome and congrats to Nicole, Andrea, and Nicholas who all completed Elements; as well as Dustin, a CrossFitter with previous experience who joined us yesterday. We look forward to you hitting class, making progress, meeting the gang and having fun.
Pineapple Classic on 11/13 Saturday at 9am! First team is formed: Me, Sean, Mark B. and Jeremy D. Get your team! (Teams of 2 or 4 are allowed)
Thought provoking article to read:
"In the 10th Year of War, a Harder Army, a More Distant America" by David Wood