5 Rounds for Time:
400m Run
7 Dumbbell Man-makers (35#/25#)
Results
View this photo
View this photo
Quote of the day: "A gem is not polished without rubbing, nor a man made perfect without trials." ~ Chinese proverb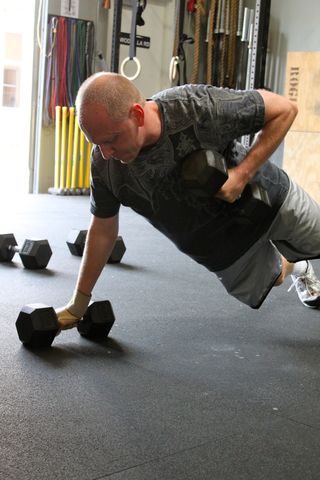 Needs more PR Bell: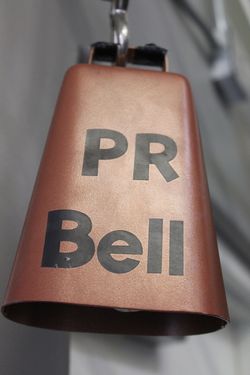 This is the PR Bell. It is located on the pull-up rig above where the pull-up bands are hanging. What is it for? PR stands for "Personal Record". When you achieve a goal or a new milestone, you ring it to celebrate. You slap it, clang it or ring it but the point is you acknowledge your accomplishment and make some noise. What do the rest of us do if we hear it? We make some noise too. Everyone's PR is equally important in the box. So when you get that first pull-up, muscle-up, change bands, go faster on a benchmark WOD, or lift a new weight; go RING THE BELL! Everyone else should cheer, chest bump, high five and butt slap because it means someone just got more awesome.
Notes:
Don't forget the swim clinic this Saturday at 9am! If you signed up then please show or Lindsay and Dustin will have more time to focus on my lack of swimming technique…
Tonight the games were on ESPN2 covering the next couple of events for men and women. The Muscle-Up/GHD/Deadlift/Sprint workout is featured in two of the four 2011 Reebok CrossFit Games episodes on ESPN2 Wednesday, September 21, from 8-10 EDT (5-7 PDT) – video [wmv] [mov]
They will air again late tonight on EPSN2 and the final events will be on at the same time next Wednesday wrapping up the outcome of the Games. Tune in or set your DVR's for next week!
"Behind the Scenes: Part 8" by Sevan Matossian, CrossFit Journal preview video [wmv] [mov]
In case you haven't seen it, the awesome video by Matt P. -"Fight Gone Bad 6 at SnoRidge CF":
Fight Gone Bad 6 (2011) SnoRidge Cross Fit from Dirt Corps on Vimeo.