Strength WOD:
10 Rounds of Max Effort 100m Row
* Rest 60 seconds between rounds; record fastest attempt
Jim C. and his record 15.4 second pull (9th on BeyondtheWhiteboard.com):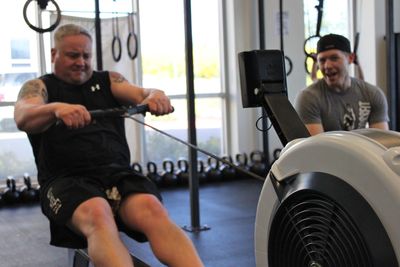 Check Out WOD Immediately After:
3 Rounds for Time:
40 Double-Unders
10 Manmakers (30#/20#)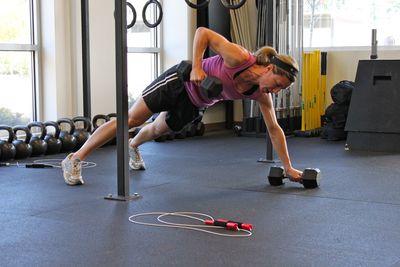 Results
View this photo
View this photo 
The 100m row sprints came about as a WOD after recently seeing it as a max effort item listed on beyondthewhiteboard.com.  A few people (your coaches included) played with it to see how fast we could go and I thought it was really fun. Stringing them together made it like running sprints and was just a different way to make rowing bearable. It also teaches how to row hard and fast for a short duration on the rower which will translate to faster row times for the longer distances. 
We had a lot of derailing today and learning seat placement and a coordinated pull/return was important to staying on the rower. Jim C. and Lucy owned the day with their blazing times and no derailing off the rower in their fastest attempts. After the fun on the rowers was over, the manmaking began. Think push-ups/row/burpee/thruster on dumbbells. Now think HARD. As in they are hard to do. The combo with double-unders made for a tough WOD. If you want to see them go to YouTube and look up SealFit manmaker. And if you are mad you missed out on them don't worry we will see them again. 
Hulk SMASH!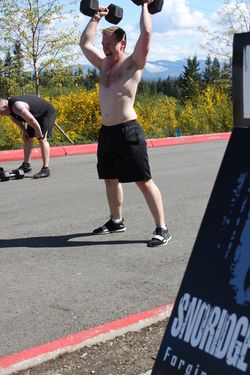 Notes:
A short history of the CrossFit Games [wmv] [mov]
One week until Regionals! (We will be closed next weekend May 15th)