In teams of 2 complete 5 x 2 Minute rounds each for max meters of:
7 Power Snatch (115#/75#)
12 Weighted Sit-ups (45#/25# bumper plate on chest)
Max Effort Row (meters) in time remaining
2 Minute rest (while other partner goes)
* Power Snatch should be unbroken sets of 7. Each partner will complete 5 rounds.
Advanced RX Class:
Strength WOD:
1-1-1-1-1
Hang Clean (Squat) + Front Squat
Conditioning:
6-5-4-3-2-1 reps of each for time of:
Hang Clean (Squat) (185#/125#) 
Muscle-up  
* Sub 1 Strict pull-up for 1 MU
Checkout:
2 Minutes Max Effort of Knees-to-Elbows
Results
View this photo
View this photo
Group Take 2: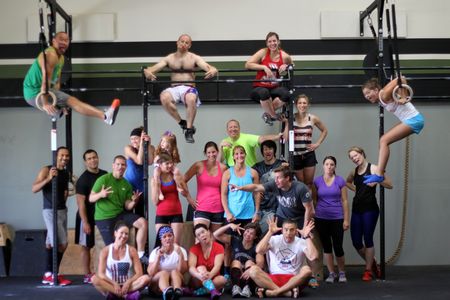 Hope everyone had a safe and happy 4th of July weekend! See you all in the gym tomorrow to work off the S'mores.