Max Effort Day (Choose a minimum of 4):
Row 500m Max Effort
Run 400m Max Effort
Row 1000m Max Effort 
Standing Box Jump Max Height (Scale up to hit max height)
Dead Hang Pull-ups Max Reps
Pull-ups Max Reps 
Kettlebell Swings Max Reps (53#/35#)
Double-Unders Max Reps
Push-ups Max Reps
Max Plank Hold for Time
Muscle-Ups Max Reps
Handstand Push-ups Max Reps
Handstand Hold for Time
*Rest as needed between max effort exercises
** Extra Credit: Learn to rope climb
Results
View this photo
View this photo 
"Moving On Up" with Rob:
Previous Max Effort Results (10/10/09)
Just another manic Fun-day! Some days you just need to know what you can do if you go all out and see how many reps you can get or how fast you can go. Today you had to pick at least 4 from the list and go for it. All of you hit a PR and displayed some mad skills!
Use these as mini-benchmarks for setting goals and getting stronger. Use the row and run times for helping learn your pace for going hard and fast. Then pick a date and break the new PR's you set today!
Lucy fitting in time for a WOD while in Maui last week: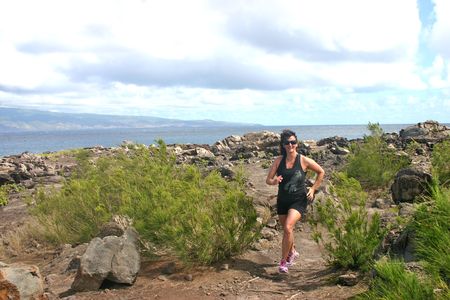 Notes:
Friday, Saturday and Monday we are closed! We are at the 2010 CrossFit Games!
Saturday 7/17 WOD: 10am at Swenson Park (over in Deer Park off Snoqualmie Parkway and Swenson Dr.) Curtis will be leading a team WOD. Show up and have some fun! Meet on the basketball court. Post to comments or let Curtis know if you are in!