7 Rounds for Time of:
10 Medicine Ball Clean to Wall Ball Throw (20#/14# to 10ft./9ft.)
10 Pull-ups
Results 
View this photo
View this photo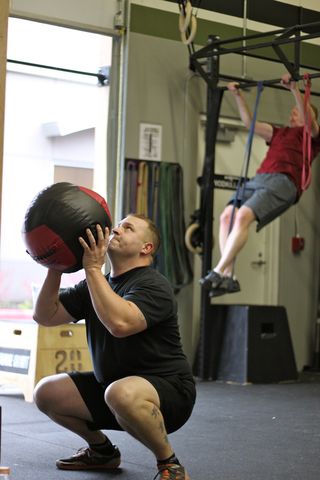 James just completed OnRamp last month. When he started in January he was using two bands for pull-ups. Today he knocked out 70 pull-ups in the workout with no band. He has been coming in 5 days a week since completing OnRamp and working his ass off. The past two WOD's he has done as RX'd.
Mollie completed her first WOD today with pull-ups as prescribed. She ditched her band and then did 70 RX pull-ups. Great job James and Mollie. Keep being awesome!
Who had fun with med ball clean to wall balls today? Similar to a squat clean thruster this movement lifted an object from the floor to a shrug and then a fast pull under to a squat and then a throw overhead. Besides being a gasser and a full body movement it worked coordination, agility, speed and accuracy.
Watch: "I Am The Fittest" – video [wmv] [mov] [HD mov]
Register for the Open here