3 Rounds For Time: 
400m Run
30 Box Jumps (24″/20″)
30 Wall Balls (20#/14#)
Results
View this photo
View this photo
Coach Rona Push Jerking: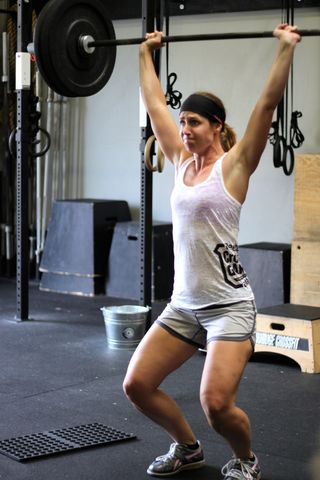 This Saturday we will be running the following CrossFit memorial WOD on 8/31 on behalf of the Hotshots 19. We will run both class times at 0930 and 1045. Details of the WOD and link to donate any desired amount to support the families of those lost is below.
"Hotshots 19" memorial workout announced. Final heat of the workout with top athletes will stream live from Prescott, AZ, on the Hotshots 19 website at 3:00 PM P.T., Saturday, August 31st.
Congrats to Matt P. who won an entry into the @TransProvence, an 7 day long Enduro Mountain Bike race in the south of France. This will be a trip and a race of a lifetime for him! Good luck!
Notes:
We are CLOSED on Labor Day, Monday 9/2! Please note there will be no classes at all on that day.
In October the 2nd "Team USA utterly dominates the rest of the world's top CF'ers Event" will take place. Froning is going so it's pretty much a done deal unless they include a pool.