Quote of the Day:
"With great mustache comes great responsibility." ~ Family Guy
"MOBROS" for time:
11 Muscle-Ups 
30 Overhead Squat (95#/65#)
30 Box Jumps (30″/24″)
800m Run
30 Overhead Barbell Walking Lunges (95#/65#)
30 Swings, Kettlebell (70#/53#)
* MU are full turnout at bottom (Sub 2 C2B Pull-ups for each MU) 
* One bar per athlete   
* Barbell OH Walking Lunges: Touch knee to ground on each lunge, support barbell in strong OH Position 
* Box Jumps: 2011 Games Standard: Stand up on box, open hips, no rebound
Results 
View this photo
View this photo
Hand Brushed, Face Grown: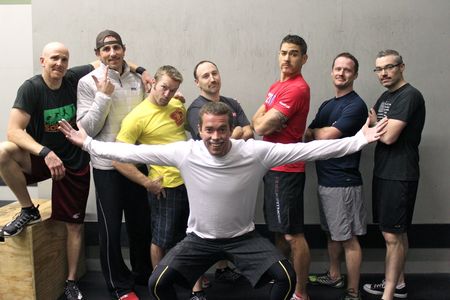 Movember, because every man deserves a little luxury.
Well it's in the books. Credit goes to Rob for the idea of creating a Movember themed WOD to close out the month where a lot of money was raised by Team Squatch-stache on behalf of fighting prostate cancer. Thanks to our MoSistas who gave their full support all month. That was one fun month of torturing and simultaneously thrilling the ladies. A month of walking past people and having those double-takes turn to knowing looks of approval, nods of understanding, and averted gazes of shame. Almost daily the question of "why do you have a lip sweater" turned into opportunities of educating someone about the cause of Movember while also making them feel just a little jealous of the ability to look stache-tastic. Only 11 months to go until Movember returns! 
Life without a mustache is… well, just life. Life with a mustache… you'll just have to join the club!