Strength WOD:
2RM
Power Clean
* Touch and Go
Conditioning WOD:
"Moore"
Complete As Many Reps As Possible in 20 minutes of:
Rope Climb, 1 ascent (15'/12′)
Run 400 meters
Max rep Handstand push-up
Score number of handstand push-ups completed for each round and total HSPU
Results
View this photo
View this photo
"Officer David S. Moore, 29, of the Indianapolis Metropolitan Police Department, died on January 26, 2011 from gunshot wounds suffered on January 23, 2011 when he stopped a stolen vehicle and the driver opened fire at him. He is survived by his mother Jo Ann, father Spencer, and sister Carol Bongfeldt." ~ CrossFit.com
Charity pregnant and power cleaning: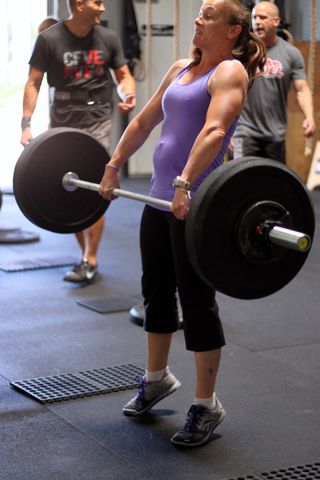 Today we had a couple friends (Jeff and Charity Vale who own CrossFit Snohomish) drop in for the 11:30 class. It was great to workout with two solid CrossFit affiliate owners, community members and awesome athletes.
Trivia Question: Of the CrossFit Games that Annie Thorisdottir competed in (2009, 2010, 2011, and 2012) who are the only women to get on the podium ahead of her?
Answer: Kristan Clever (2010 – 1st), Tanya Wagner (2009 – 1st), Carey Kepler (2009 – 3rd), and Charity Vale (who finished 2nd overall in the 2009 Games).
Notes:
4th of July classes (Thursday):
9:30 class
10:30 class
All other class times cancelled that day (rest of weekend are normal hours)
Have a happy and safe Independence Day! TEAM AMERICA!