Choose between:
7 Rounds for time:
7 Overhead Squats (95#/65#)
10 Burpees 
or
7 Rounds for time:
7 Burpees
7 Overhead Squats (135#/95#)  
Checkout WOD:
As Many Rounds As Possible In 4 Minutes of:
5 Knees-to-elbows
10 V-ups
15 AbMat Sit-ups 
Results
View this photo
View this photo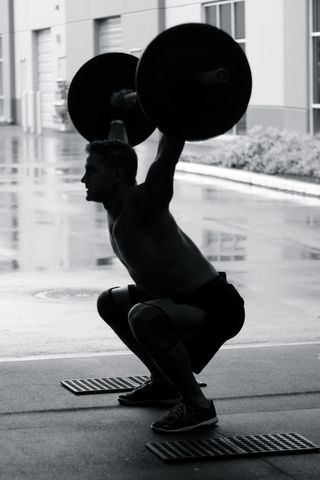 More on the bar or more on the floor? That was the choice today. Heavier overhead squats or 30 more burpees. I prefer the heavier squats but picked the burpees. Yay burpees. Either way was an ass kicker.
Schedule Update:
This Friday and Saturday (5/31 – 6/1) we are CLOSED for the Northwest Regionals.
No classes on either day! 
All are welcome to come watch the Games for our Region and to cheer on Mark as he competes individually among the top CrossFitters in Washington, Oregon, Idaho, Alaska and Montana. The venue is the Showare Arena in Kent. Heat times will be published on the games site under our region so you can know when Mark (or any other athletes) goes. The top 3 men, women and teams will earn a spot to the CrossFit Games in July at the Stub Hub Arena in Los Angeles. You can buy your Regional tickets at the door or online. If you come then look for the rest of the SRCF Crew!
Saturday is the SRCF "Powered by Bacon" shirt, Sunday is the "Pick Things Up and Put Them Down" shirt. If you don't have them then wear another SRCF or CrossFit shirt, or a singlet (you can borrow Sean's) or a half mesh tank top with capri's (you can borrow Josh's).
"Happiness and Intellectual Pursuits" with Elisabeth Akinwale, CrossFit Journal video [wmv] [mov] [HD mov]
Melissa Dixon: Shark Mode Northwest Regional Athlete: games.crossfit.com