For Time:
1.36 Mile Sandbag Trail Run to Mossy Stump Hill and back
* Choose a vest, sandbag, or weight. Post load and total time.
Results (Pic to be posted tomorrow)
All Weighted Down and Ready To Go: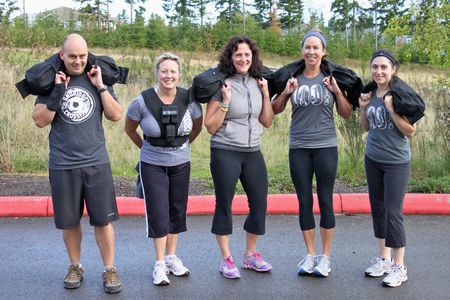 lululemon weight-vests?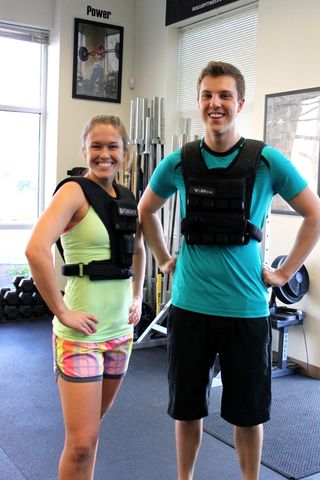 Today was time to mix it up a little. We've been wanting to get out for a run to Mossy Stump Hill for class. I love this hill. Running hill repeats will be something that anyone considering Sectionals should be ready for. The weather mostly cooperated and hitting the hill down, up and back again is tough with or even without a vest or sandbag. The distance may be relatively short but running it for time is a good workout. Adding in the vest or bag to go as RX'd makes breathing (and running) all the more difficult. 
Notes:
Tomorrow is Barbells for Boobs! For those planning on coming, rest up, eat a good breakfast, go forth and dominate! See you at King CrossFit. For the rest of you remember that the box is CLOSED Saturday and all are more than welcome to come to King and WOD with the rest of us for good times and a good cause.
There will be NO CLASS this Saturday here at SRCF!
16 October (Sat.) – "Barbells for Boobs" at King CrossFit. Part of breast cancer awareness month, "Amazing Grace" is a fundraiser sponsored by the CrossFit Journal to benefit Mammograms in Action
Location: King CrossFit, 200 South Tobin Street, Renton, WA 98057 
WOD is "Grace": 30 Clean and Jerks for time (135#/95#) as RX'd
"Go" Times: (arrive a little early to warm-up, let them know you are Team Squatch)  

Box opens at 8:30am
1st wave at 9am and goes every half hour until 12pm

If you have kids then they can try CF Kids at 11:30am if there are open spots!