"Do not let what you cannot do interfere with what you can do." ~ John Wooden
"Far better is it to dare mighty things, to win glorious triumphs, even though checkered by failure…than to rank with those poor spirits who neither enjoy nor suffer much, because they live in a gray twilight that knows not victory nor defeat. " ~ Theodore Roosevelt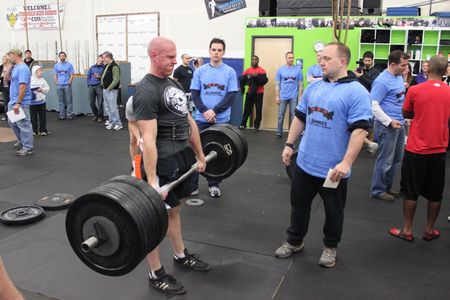 Yesterday was Mt. Rainier's Strongest Man and Woman, a fundraiser for Fragile X Research held at Rainier CrossFit in Puyallup:
Event #1: 1RM Axle Deadlift: 3 attempts (20# progressive load)
Event #2: 2 Rds for time of: 200m Run/5 Stone Loads /16′ Rope climbs (2 Men / 1 Women)
Event #3: 3 Rds for time of: 7 OH Log Press / 21 double-unders
Event #4: Sprint / Heavy Farmers Walk / Sprint / Heavy Sandbag Carry event (~ 30 ft. all distances)
Pat, Moe, Sean, Mark B., and I all competed yesterday for Team Squatch. 
Pat finished 3rd out of 7
Mark finished 4th out of 11
Moe finished 6th out of 8
Sean finished 9th out of 15
Tom (me) finished 2nd out of 11
As Mark said it was a day of doing epic shit! After spending last night after the event eating a big meal, drinking a margarita (or two), soaking in an epsom salt bath, and sleeping in I can safely say I am sore, tired, and absolutely stoked! Yesterday's event was an amazing day. Team Squatch went down to Rainier for the MRSMW 5 event and threw down for charity. This annual event is a meaningful cause to raise funds to help find a cure for Fragile X. This directly benefits Rainier CrossFit in that Kurtis and Laurie's son Casey has Fragile X. So this event is essentially for Casey. Every dollar raised, donation made, and entry fee paid goes to help fund research for a cure. Personally while the competition is truly fun and intense, it's made even more meaningful when you know that the community is coming together to benefit something real. That's why events like this, Fight Gone Bad or Amazing Grace are more fun than Sectionals or Regionals. 
There were four Strongman/CrossFit blended events and unique from what we typically do in the box. A few of us were able to work at least once in the past couple weeks to learn the new movements we had never done. Things like stone loads, log presses, and heavy farmer's walk; while some on the team learned or gained more experience with rope climbs and fat bar lifts. These events proved unique and challenging. They were very well programmed WOD's that were deceptively hard in their own right, as even if you could do all the movements and loads as prescribed they were very physically taxing when done for time. Strongman events are typically very short duration, max power, anaerobic type events. The movements require enormous strength and technique in their own right, but adding things like runs, rope climbs or double-unders elevates your heart rate, and makes it even more of a challenge. This blend of CrossFit and Strongman was really effective and over the course of the day and kicked all our butts.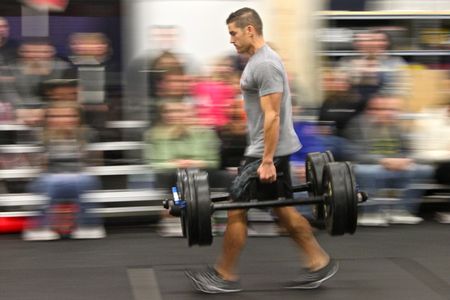 I am honored to have sweated and bled (yes bled) with some very good athletes and friends. Our hard training at SRCF paid off as we all represented ourselves well. Are there things for each of us to work on? Of course. Now are there things we did yesterday that we couldn't probably do just a few short months ago? Absolutely. Did we all have fun and contribute to something important while doing it? Heck yes. That makes it one successful day.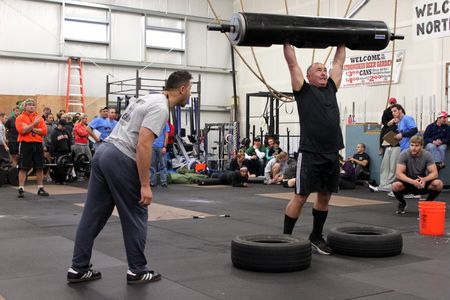 My personal recap:
I loved these WOD's. The fat bar deadlift is different for most (Mark is the inhuman exception as he is seemingly capable of deadlifting anything that happens to be in his way). Knowing you only had three attempts with predetermined jumps meant you also had to think about strategy and not get greedy without being too conservative. At the end I tied my normal bar deadlift and finished tied for 3rd. I could have maybe pulled more. Lessons learned all around.
The stone load/rope/sprint triplet was deceiving yet really a blast. For me it felt like "Fran" when I was done. Going all out was my strategy without missing a 200 lb. stone load. Taking active rest during the WOD and knowing when to chalk (like before the "3-2-1 Go") helped save seconds. Climbing fast and sliding down the rope was crucial in a WOD and field that every second clearly mattered. During that second round the stone got real heavy and the forearms got really tired. By the time this was over I was in 2nd for the WOD and left wondering if I would be able to keep my post WOD recovery meal down. I also think I want to buy some stone molds!
Log presses and double-unders are a good couplet. Learning to lift/roll the log up (you don't clean it) and then move your head out of the way to lift it makes what seems a manageable weight quickly feel like you are lifting a small tree. For me this WOD was a blast as I got to go head to head with the defending Strongman champ for my weight class from last year's event (Paul – a truly great dude). As the shoulders and legs quickly fried, and the double-unders flew by, I realized I was still slightly ahead of Paul. Knowing he would not slow down, I kept the log in my hands during round three despite wanting to drop it. Finishing just seconds ahead of him in 1st meant a lot as my wife, daughter and friends were cheering us both on. It ranked up pretty high as one of my all time favorite workouts.
The final event was short yet important. There was no room for error. Trip, fall (more on that), or fail and your placement in this WOD suffered. As each heat went by it was obvious that it would be heavy and that falling or diving over the line was getting to be common. For me I knew I had to win the event to at least tie for 1st. The sprint across the gym was short and you had to turn and step (or jump) into your farmer's handles. The loads were heavy (210 lbs. each hand for me) and walking a real hurdle. Short choppy steps was the key as I made it across with no issue. As soon as I sprinted back and grabbed the 200 lb. sandbag I knew I just had to keep moving to maybe get the fastest time. Moving too fast as I neared the finish I went splat and fell face first in front of the finish line which lost a few precious seconds. 
Overall I finished 2nd for my class. I had tons of fun and look forward to next year already!
Read the recap of the MRSMW event from Moe and Mark's perspectives on their own blogs:
Team Squatch (pictured L to R are Sean, me, Moe, Mark, Pat):