5 Rounds for Time:
400m Run
Overhead Squat (95#/65#)
* RX+ Option: If you have done this benchmark previously and can go unbroken in all OHS, then consider going heavier
Results
View this photo
View this photo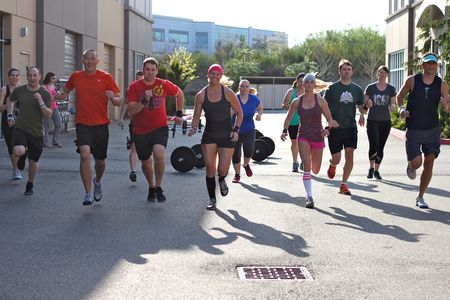 The Overhead Squat is a weightlifting movement that requires strength, coordination, flexibility, power and a stable midline. It tests your core, shoulders, and leg strength. Learning the proper positioning requires practice, practice, more practice and then patience, but once you get it you will see a change in your speed and power as well as improve your squat snatch. Combine it with running and you have the makings of one of the best benchmark workouts ever! 
Remember armpits forward, arms locked out, hips and butt back, squat deep, knees out, and weight in the heels. 
This weekend the 2012 CF Games Regionals starts! Canada West, South Central and South East regions get things started on Friday.
Regional Preview: Week 1, April 27-29, 2012 – video [wmv] [mov] [HD mov]
"6 Reasons Why Coaching Kids Makes You a Better Coach" from Breaking Muscle.
Scaling Option? John gets creative for the OHS: