As Many Rounds As Possible in 20 Minutes:
400m Run
Max Rep Pull-ups
Run first then perform max rep pull-ups. Touching the ground or contact with a box (if performing assisted pull-ups) terminates the round and starts the next run. Grip it and pull!
Results
View this photo
View this photo
Jim M. pulling for the next rep: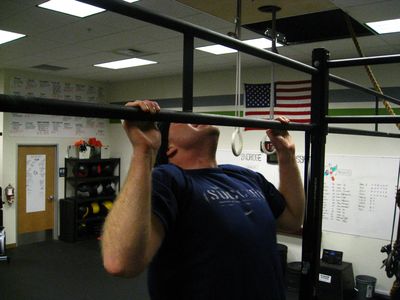 "Nicole" is a WOD that crushes the forearms and makes it feel like you are running with two tree trunks tied to your shoulders. As your grip fails and the mind keeps racing the clock, you wonder how you are possibly going to get the next round of pull-ups without falling off the bar. The run is truly a penalty as it either sucks away time or forces you to run so fast that the heart is beating out of your chest as you come back to the bar. Do you practice your math skills while you run the 400m, constantly trying to pick what to target each round to get to your goal? What pull-up strategy do you use in this one? Do you hang on for dear life and eke out rep after rep? Or once you get to fatigue do you choose to drop and run fast? Whatever method you chose today, remember it and next time try the opposite. Looking at the whiteboard and the seriously impressive performances today make me want to get on that bar!
Notes:
Pics from our field trip on Saturday to practice some Olympic Lifting at Thrush Sports Performance Center (thanks Jim C. for taking some great ones):