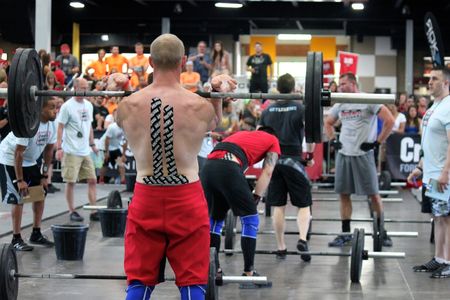 Just like that the Regionals are over and done. Ancient history. 6 weeks before the CF Games kicks off and crowns the fittest man, woman and team in the Sport of CrossFit. Before we shift focus to that, I wanted to write about where Mark ended up and my reflections on the Open and Regionals.
Mark spent the past year after the 2011 Regionals training hard. Practically never missing a workout with the exception of a planned rest day; he showed tremendous discipline every day coming in and getting fitter. He also focused on nutrition, mobility and recovery and got ready for the Open. Week after week Mark stayed in the top 60 with strong performances but as the last week of the Open approached and the final WOD loomed he slightly injured his back during some deadlifts. It was bad enough that the final workout was immediately in question. He quickly got it treated that week, rested properly and was able to still set a PR on WOD 12.5 from last year's Open; securing his spot in the top 60. 
After the Open was over Mark completely dialed in his nutrition and stepped up the training to focus on the upcoming Regionals. It paid off. This past weekend he finished in an outstanding 25th place in the 2012 Northwest Regionals out of 43 men and 6 states! Building off of 2 PR's for him in the first 2 workouts he went on to stay in the top 25 spots through the last three workouts. It was a weekend in which we saw Mark give his all in each WOD and push himself past his limits against a field of some seriously fit and strong beasts. He represented himself (as well as SnoRidge) well and all of his hard work and training paid off in a finish that was better than his finish in last year's Regionals. I am personally stoked for him and we are all proud. A highlight for me was that so many of the SRCF crew was there to cheer him on and show your support. For both Michelle and I it was satisfying to see the family that has been built come together to volunteer, cheer, and enjoy this sport side of CrossFit and cheer on one of our own. 
As I judged this weekend I was able to get a different perspective on Regionals and where the sport of CrossFit has changed over the past 5 years that I have been a CrossFitter, then affiliate owner and coach. CrossFit has evolved down two roads; the primary road being that of simply the best method out there to getting truly fit and healthy as well as the off ramp to the less travelled road that turned CrossFit itself into one of the coolest sports around. Okay THE coolest sport around. Over those years I have seen: Weights that were heavy are now light. Movements that were seen as advanced are table stakes to simply compete. Skills once thought off limits to the top CrossFitters are now the average. "Impossible" workouts are regular WOD's. Times on benchmarks are half what used to be considered fast. Every year the best of these CrossFitters defy the doubters and redefine work capacity. There are now seriously high level athletes coming out of the woodwork and turning to this sport and taking it further. Local events are practically every weekend, the Open is drawing over 65k people, and Regionals are ridiculously competitive worldwide. Just when you think the best are already known, a new person emerges.
Having competed twice in Regionals before (and trying furiously to get back each year), I have seen it grow from an old hangar in Seattle to a Sectionals/Regionals format in a horse arena, to the new fancy ShowPlex Arena in Puyallup. Events are now a lesson in first class organization and management coordinated with Regionals around the world. Each year it gets better and better, bringing more and more people in to the world of CrossFit. Gone are the days of makeshift platforms, workouts in the dirt pit, and handmade signs and welded racks. It's all about equipment packages; media, judges, equipment, scoring, and medical crews, and improving the "fan experience". In two more years it will only get better.
As I talked to someone in our gym on Monday during a wave of "Murph" I was asked what I thought about the chances of our gym fielding an affiliate team. The discussion led to me explaining the fact that you must a have a team of both well balanced male and female athletes who place very high in the Open and have arguably very little weaknesses in their game(s). With many of the top 30 teams who qualify having at least one Regional male and female level athlete the challenge is a tough one. You also must have two more each of male and female athletes on a team that are close to qualifying or in the top 100 to 125. That said it's achievable. The question was asked if I would "throw down the gauntlet" and issue a challenge to our gym to qualify a team. Initially I said "yes"! After thinking about this the past two days though I changed my mind on flat out issuing a challenge.
Here's why. The challenge is already there. It's called the CrossFit Games. You must excel in the Open, make Regionals, and do unbelievably well there to advance to the Games. You have to train your ass off, eat right and beat a ton of anonymous other CrossFitters. You don't need (nor should you want) to have me throw out another challenge. The challenge should come and has to come from within. Athletes who choose to make CrossFit their sport and seriously want to be out there at Regionals as either an individual or team must have that burning inside of them. CrossFit as a competitive sport is an altogether different thing than CrossFit as a functional fitness program. CrossFit as a sport at that level is a lifestyle. The majority of people do this to improve their fitness. I wholeheartedly applaud that as that is truly why we all do this in the first place. It's to stay as "young and healthy" as possible for as long as we live. It's our major motivation to owning a gym. It's Michelle's and my passion to help people get healthy.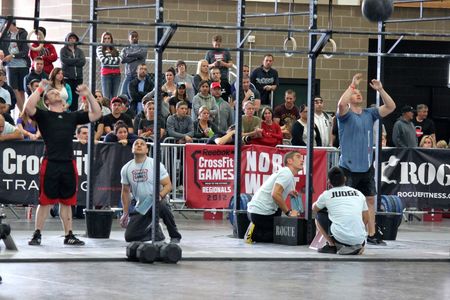 For those who want to compete and win, that is a different thing. To earn the spot to enter the arena you have to willingly want to pursue what it takes. It takes training consistently and daily and with intensity. It takes a hardcore discipline of proper nutrition. It takes a focus on managing your rest and recovery. It REQUIRES a self driven and intelligent approach to improving your weaknesses, building on your strengths, and facing new obstacles head on. You must own this, and you must be prepared to fail but be determined to succeed. That determination must be persistent and patient, as when it's late November and its raining, cold and dark and you don't want to train you still must walk in the door and throw down. You must learn how to prioritize and balance your life to make room for training. You have to set both long and short term goals that are both realistic and achievable. You must be honest with yourself that you are committed to it.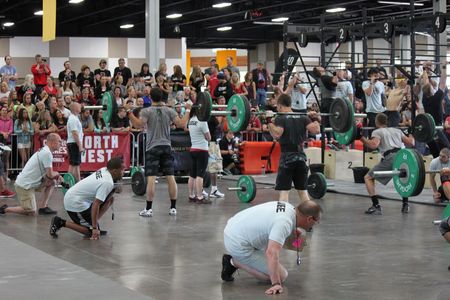 Both Mark and I have made past Regionals. Each year we will tell you it is getting more competitive. A bigger challenge. That is fun for us. All of the athletes who qualify all want it and make it their priority. I want to get back to Regionals individually as well as qualify a team badly. I also know and am realistic about what my personal obstacles are. A full time job completely separate from a second one of owning and running this affiliate and a family to juggle make for very little training opportunity that I know I need. That said I march to a very consistent schedule that sacrifices needed sleep for needed training. There are certainly days where I don't "feel it" and want to mail it in. I can't let myself give into that or it throws off my training. My hope is that this pays off each year and I am able to achieve my goals in CrossFit.
If you are one of those who wants it then this is the only challenge I am throwing down:
Declare your goal. Do it to your coaches, your friends, your loved ones. Tell us (and them) to hold you accountable. 
Make it happen. Like any other sport you must practice, train, eat properly, and listen to your body. 
Follow the programming and be consistent. Come in even when the WOD has something you hate. Don't cherry pick the workout or skip it. Ignore the "RX" and push yourself intelligently. Do it right but go hard every time. Diligently work your weaknesses and crush them. Make them your new strengths. Before you know it "RX" will be up there almost every time.
If you do these things then you will get stronger, fitter and faster and we can qualify a team. I believe that we can and I promise you we will do our part. We will coach you, push you, hold you accountable, teach you everything that we can, and keep the program CrossFit. We will work just as hard as you do. You simply have to want it, then do it. That is my challenge.
As Fitness Lonnie says, "Let's get it!"
Highlights from the North West Regional: games.crossfit.com