Strength WOD:
2/2/2/2/2/2
Front Squat
Conditioning WOD:
Choose either:
As Many Rounds As Possible in 12 Minutes of:
3 Muscle-Ups 
7 Front Squats (155#/105#)
200m Run  
As Many Rounds As Possible in 12 Minutes of:
6 Chest-to-Bar Pull Ups 
7 Front Squats (135#/95#)
200m Run  
Results 
View this photo
View this photo
Carly Front Squats: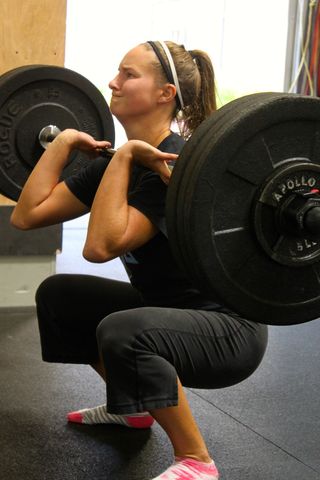 The "Frankenchipper" is around the corner! On Saturday 10/27 is our annual costume Halloween WOD starting at 0930. We will run waves as needed. The only "rule" for this one is you have to have a costume. If not then there will be a penalty incorporated into your workout. 
Later that evening we are hosting our annual SRCF Haunted Halloween party at our house. This one is an adults only party and the gym is invited. Bring a dish and wear your costume (costume definitely required). No costume no entry. If you didn't see the evite or if you don't use the Facebooks let us know and we will get you the details. It's spooktacular!
Notes:
Heads up that tomorrow night 10/18 from 6-7 John Zanas from Peak Spine and Sports will be upstairs in the gym for a free screening to anyone who has a potential physical trouble spot or injury concern or range of motion limitation. 
He will assess your symptoms and whether it is a stability or mobility issue and give you advice on what to do to improve it. The goal is to give you self treatment options to avoid actual injury or time lost form training/exercise. 
Oh and did I mention it's free? Just show up and go upstairs and see him.
"Cueing the Power Position" by Andrea Maria Cecil, CrossFit Journal article [pdf]
Nutrition:
Good eats! Meatza. It's what should be for dinner.
Mr. Pink and the Muscle-Up: