40-30-20-10 Rep rounds for time:
Row (Calories)
Push-ups
Box Jumps (24″/20″)
AbMat Sit-ups
Results
View this photo
View this photo
Coaching a Coach through today's grinder: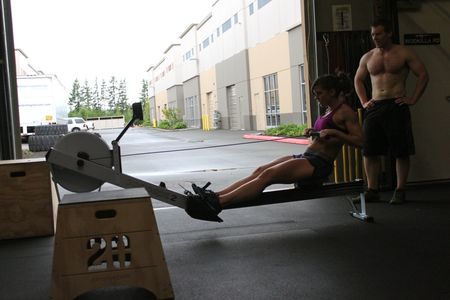 The double-under is a skill. As a component to helping you get fitter it drives improvements to cardio-respiratory endurance, agility, coordination, speed, and arguably accuracy. Many of you have had that dread about double-unders. Many have been practicing, trying and buying ropes, and learning how to get from "single, single, double" to consecutive double-unders.
The main keys are the timing of the same jump you use for a single-under (but with a more explosive or powerful jump) while rotating or pushing the rope with the wrists around for two quick revolutions. You have to be patient and jump hard as you learn without "donkey kicking" yourself in the rear. As you explode each jump remember it's a vertical jump that is timed as the rope is beginning to pass under your feet. That is the point at which you spin your wrists around twice to force that rope to move. The elbows should stay down and the wrists should stay forward of your hips. If you are ready to learn or having issues then grab one of your coaches to work with you and offer tips to correct your technique.
One way to improve your DU skills is to practice them tabata style. Use it as part of your warm-up or after a workout. Watch the below video for a great view of how double-unders should look.
Tabata Double-Unders WOD Demo with Chris Spealler (40 reps) and Miranda Oldroyd – video [wmv] [mov] [HD mov – Download only]
Notes:
Amazing "Grace" is tomorrow! 0930, 1000,or 1030. Show up and we will run waves through. CF Kids also kicks off at 0945.