Strength WOD:
Overhead Squat
3/3/3
Checkout WOD immediately after from the 2010 NW Regionals:
3 Rounds for Time: 
10 Overhead Squat (135#/95#)
50 Double-Unders
Results
Steven thankful the WOD is over: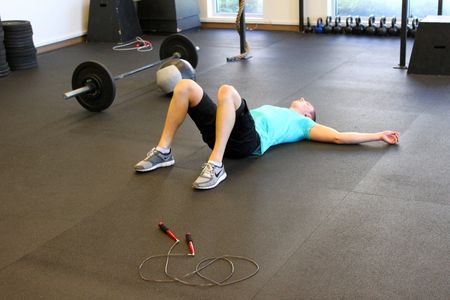 Steven and Rob demo the movements:
The checkout today was the first WOD of this year's Northwest Regionals for the CrossFit Games. A very effective couplet, this one punishes the arms, legs and taxes the lungs. The faster you are able to move the harder it is to control the breathing to control 135 or 95 lbs. overhead. While there were several amazing performances on this WOD at Regionals, nothing was more amazing to watch than Speal doing this in under 3 minutes. He weighs 135 lbs. himself. Do the math, that's 30 BODYWEIGHT overhead squats with 150 double-unders in less than 3 minutes. It must be seen to be believed!
Chris Spealler Top Time (2:39) in WOD 1 of NW Regional [wmv] [mov] 
Notes:
See you all tomorrow at 10am; except for those resting for the Danskin Tri on Sunday. You ladies sleep in, eat a nice Paleo breakfast, and get your game faces on. Oh and don't forget the cans of spray "Pam" for Rob to lube everyone up for their wetsuits!