Strength WOD:
Every Minute On the Minute for 10 Minutes:
1 Power Snatch + 1 Hang Snatch (Squat) + 1 Overhead Squat
Conditioning WOD:
5 Rounds for time of:
5 Overhead Squats (95#/65#)
25 Double Unders 
Results
View this photo
View this photo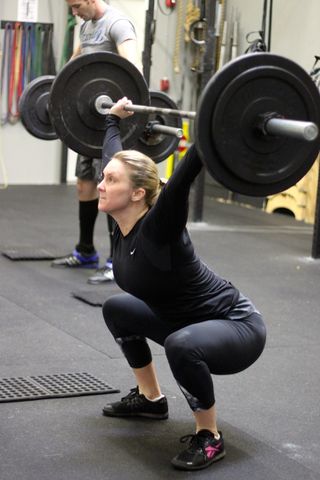 2013 CrossFit Games Open update:
Sign up for the Open. The link is now live. Details on cost, dates etc. are here:
Registration for the 2013 Reebok CrossFit Games Open is live! – [video]
The 2013 CF Games Open begins March 6th at 5pm PST and runs through April 7th. Our goal here at SRCF is to encourage competing in the Open and using it as a tool to test your fitness against CF'ers around the world as well as to push you as an athlete. Another goal is to keep the strong family and team vibe going that embodies our SnoRidge community. Together our individual performances will allow us to compete as a gym (all members who register and train here make up Team Squatch.
Each week CrossFit HQ will announce the Open WOD for the week that everyone around the world can perform as RX'd to compete in.
Athletes who participate during the Open will be ranked individually and counted against our team score as long as they can RX the workout for that week. Once you scale you may continue to post scores, but you will be out of the Open for the remaiing weeks and moved behind all RX participants in the rankings. Results will be entered to the Games website by the athlete each week and validated by me. All WOD's must be judged.
The top 48 men, 48 women, and 30 teams will advance to Regional Competition. From there the top Regional competitors worldwide will advance to the 2013 CF Games at the Home Depot Center in Carson, CA to compete for who is the fittest man and woman CrossFitter. 
Each Thursday during the Open we will program the Open WOD for all classes. On Saturday we will have a specific time for make-ups/re-do's. Count on each Thursday as your standard day to complete the WOD. Those competing will have a judge. 
How will judging during the Open work? We will judge strictly to the established standards that CrossFit publishes each week prior to the Games Open WOD. No deviation. Each athlete will have a judge. Expect that you will have a counter if you are still eligible for a RX score in the Open. No-reps and corrections will be clearly communicated for the athlete to correct. 
We will also post one time a week for non-SRCF athletes to register with us via Mindbody online or email in advance to complete the Open WOD for the week. Non-SRCF CrossFitters must register for the Open on their own and pay our drop-in fee of $20 per WOD. More details to come…