3 Rounds for Time:
400m Run
30 Overhead Squats (75#/55#)
21 Pull-ups  
Results
View this photo
View this photo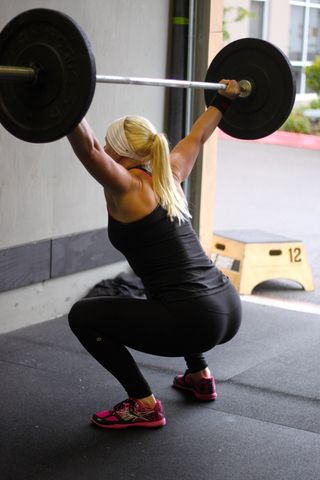 Congrats Seth on reaching your 100th WOD!
Video of today's WOD from the CF.comVault along with overhead squat coaching tips from Speal.
WOD Demo in 9:18 with Chris Spealler – video [wmv] [mov]
CF Games Open Stat of the day: "85,562 competitors submitted a score for Open WOD 13.5. Only four percent (3,528) of those 85,562 got past the 3rd round – even less, (0.04 percent or 33 athletes) reached the 7th round." Safe bet this one will be repeated next year?
Being There games.crossfit.com
CrossFit can cause rough hands and callous issues from pull-ups, toes-to-bar and other type of movements. It's essential to keep them sanded down and smooth. You can use a file, pumice stone, or other type of manicure tool, but if you want the quick and effective way then get a Dremel for the preferred callous maintenance solution. Buy one of these, use it and you won't have any more issues. Oh and don't bring gloves in. You don't need no stinkin' gloves!
Buy a cordless Dremel and file them away!