Strength WOD:
3/3/3/3/3
Overhead Squat
* Find your 3 Rep Max (3RM)
Checkout WOD:
As Many Rounds as Possible in 12 Minutes of:
100m Run
9 Overhead Squats (95#/65#)
1 Rope Climb (15′)
Results
View this photo
View this photo
Reinforcement to what we see often in our warm-ups. All CF'ers should know, memorize and practice this (we add the pressing snatch balance at the end): 
The Burgener Warmup: Coach Mike Burgener – CrossFit Journal
Reebok's Empire State Building WOD, YouTube
Weightlifting shoes.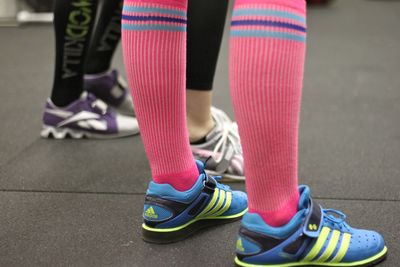 If you are serious about your lifting get a pair. If they are too pricey get a very flat shoe with minimal heel cushion. It makes you more stable, prevents loss of power due to a hard flat heel (as opposed to a cushioned heel) and improves balance in your lifts.
Reminder: 6pm Friday: Q&A upstairs about the 2012 CF Games Open for all interested competitors.