Choose your load and go for time:
Run 800m
30 Clean and Jerks
Run 800m
Results
View this photo
View this photo
Maggie Jerks: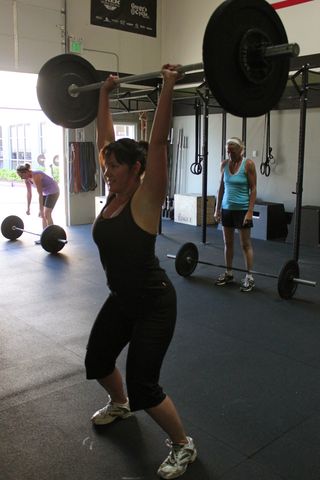 Similar to pick a path books this WOD lets you determine your adventure. Pick your weight and go. Ideally it's challenging enough to be heavy but does not sacrifice form and technique. Too light and you'll know it and the second run will be a breeze. No bueno. If it's heavy enough that 10 to 15 reps in you're thinking maybe you should have chosen a little less than it's just about right. 
Frank and the Power Clean and Jerk:
Speaking of pick a path, here's a path that someone recently chose that exemplified great character and commitment. One path means finishing 3rd at the Northwest Regionals and earning a spot to the CrossFit Games even though they wouldn't be able to go due to military obligations. The other path means allowing others to finish ahead of you thus giving up your 3rd place spot so that our Region sends three female athletes to the Games. Becky Clark of Narrows CrossFit chose the correct path in my (and many others) view.
"Becky Clark's Sacrifice" by the CrossFit Games [wmv] [mov]
CrossFitters on vacation. Check out Jeremy, Pat and Steph hitting a WOD while docked on their cruise: