5 Rounds For Time:
7 Deadlift (275#/185#)
30 Air Squats 
7 Handstand Push-ups
Results
Boroumand Pushes, Foucher Pulls: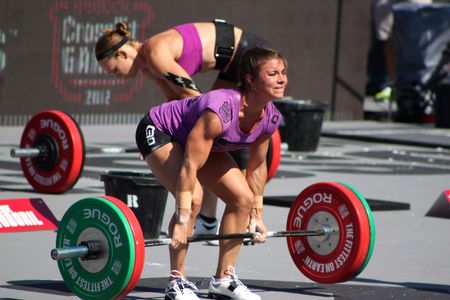 "Moments In Time": Ten special vignettes from the CrossFit Games
The ten memorable moments listed above from the Games are pretty interesting. It made me think of what my top ten were.
My Top 10 Moments of the 2012 CF Games:
Getting there a day and a half early and having dinner and drinks on the beach with my lovely wife with great live musicians playing acoustic guitars. We don't do that enough. 
Michelle actually setting PR's daily by being ON TIME for us to get out of the hotel to the Home Depot Center! (It was a team effort but it happened. This is both mythical and magical. I am still in shock over this.) Ring that PR bell M!
Me attacking the Vendor Village like it was a full on PR attempt at a benchmark WOD. I had a plan going in, knew the layout of the vendors and gear I wanted, and I executed it unbroken. I even felt like I completed Fran afterward when I realized how much cash I parted with. (I have a problem…)
The most God-awful (literally) prayer to open a sporting event I have ever heard. Seriously I cannot imagine that God cares about thanking him for Reebok, GNC, Vita Coco, Home Depot, Rogue Fitness… It was almost Will Ferrell like quality. The redemption to the opening ceremony was having two F-18's fly over the stadium. At that moment I thought "F*ck yeah America!"
Speal. His heart and soul was evident in each WOD. You felt him fighting to try and win. Knowing it was likely his last Games as an individual made him a bigger magnet to watch.
The race between Annie T. and Kristan Clever in both the Med Ball/HSPU WOD and the Chipper. They always know where the other is and neither wants to lose to the other. It's a fun rivalry to watch.
The Clean Ladder. I love ladders. It's simply built for spectators. Both Lindsay and Akinwale clearing it was pure bad-ass adrenaline and watching so many dudes power cleaning well over 300 pounds and Maddox getting 365 pounds was just crazy and I felt so much less of a man afterwards.
Watching the Champs. Both Annie Thorisdottir and Rich Froning are truly on another level. Annie simply smiles constantly before, during and after workouts. She actually fricking waved to someone while carrying the 80 lb. med ball on her shoulder and racing Kristan Clever across the stadium. Froning seems to know when to just put the pedal down and WIN. He was watching the rest of the heat on the Jumbo-tron during men's Chipper while he was doing fat bar thrusters to make sure no one would catch him. For the whole set. Who does that? When it was time to win and put the stamp on it he simply outdid everyone on "Elizabeth" and "Isabel" and took first in each. 
T. Fortunato vs. K. Clever for Bronze. Whoever did "Fran" faster would win $25k and get on the podium. Period. Clever dropped off the bar with 2 pull-ups left. Fortunato didn't. She took bronze. 
Spending so many days in the sun, on the beach and in the stands with so many great friends and being surrounded by the coolest community on earth. From riding bikes along the beach to workouts in the park to screaming in the stands, we had fun every single day. I wanna go back and do it again in 2013!
Honorable Mention: Meeting Trainer Bob (my CF Open nemesis). He was actually pretty cool. Go Bob.
Spirit of The Games Winner: Deborah Cordner Carson – video [wmv] [mov] [HD mov]
The Affiliate Cup Champions, Ute CrossFit – video [wmv] [mov] [HD mov]
Ute CrossFit aka Hack's Pack wins the Final: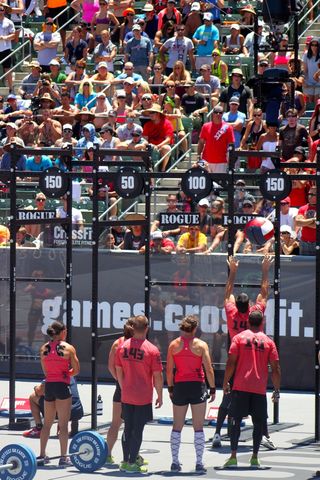 Heather Welsh (sigh) and the Bar Muscle-Up. Poetry in motion: