4 Rounds for time:
400m Run
5 Muscle-ups 
20 Wallballs (20#/14#)
Checkout WOD:
3 Rounds for time:
3 Skin-the-cats
5 V-ups
15 AbMat Sit-ups
Results
View this photo

View this photo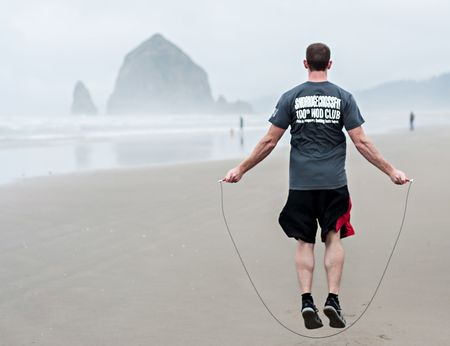 Today's picture (by Alison) is of Rob hitting double unders on Cannon Beach at the home of the Goonies.  It also happens to be the picture of the day on CrossFit.com.  No surprise, it's an awesome picture. Well done Rob and Alison!
If you are wanting to get a father-daughter workout in for Fathers Day morning then come join me and Ashley for a fun team AMRAP this Sunday on Father's Day, June 16th.
Where: ivivva athletica clothing in Bellevue
When: Meet at the store between 9:45 and 10am 
What: A free CF Kids workout with you and your daughter. Dress appropriately, it should be sunny. We plan to walk down the street to the Bellevue Downtown Park.
More Games tickets are going to be available: Spectators at the 2013 Games: More and Better