3 Rounds for time of:
10 Thrusters (95#/65#)
20 Pistols
40 Double-Unders
* RX+ (115#/75#) 
Results 
View this photo
View this photo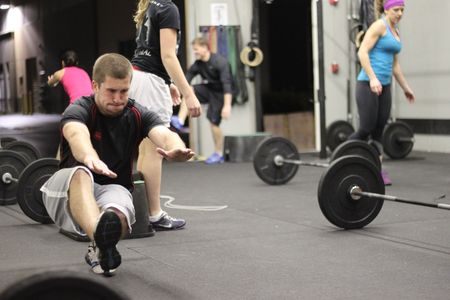 There a ton of ways to scale a pistol or single legged squat. We covered some of them today but not all. Today the options included using a ball or box as a target, standing on top of a box and doing a one-legged squat, holding a weight as a counter-balance or using a band behind the hamstrings/glutes that is stretched across a rack for an assisted full range of motion pistol ("ass to ankle"). 
Besides the obvious of balance and leg strength, mobility can be a huge limiter to the pistol. Focus on hip, ankle, leg and back flexibility/mobility and work these areas to improve your position in the pistol. 
"The Couch Stretch" with Jami Tikkanen, CrossFit Journal preview video [wmv] [mov]
"Pistol Progressions: Parts 1-2" by Carl Paoli, CrossFit Journal
Notes:
Movember has officially launched! What is Movember? Click the link to read up. This is the second year that we have organized a group of MoBros. We will sport glorious lip sweaters for the next few weeks in support of the fight against prostate cancer and finish the month with our "MoBros WOD". If you participate and register on the site then join "Team Stachquatch".
Wanna get a shirt? Either be a man and mustache up or be a woman and get a ride.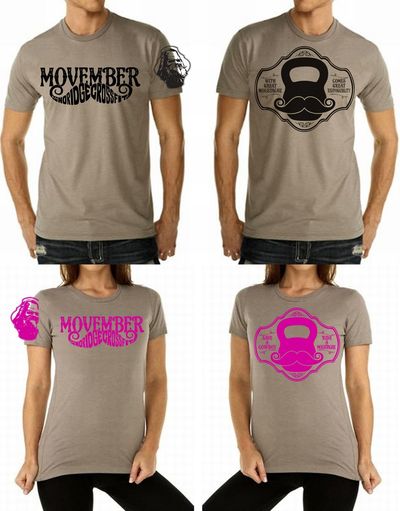 If you want one tell us your size NLT end of day Friday 11/2. Shirts are Next Level (same fit as our Pick Things Up men/women t-shirts). Men's are Stone Grey T/Black Ink and Women's are Stone Grey T/Pink Ink. 

To order:
1) Men must grow a Mo to order/earn a MoBro shirt.
2) Post your Size to the whiteboard in the gym or on our Facebook group page.
3) MoBros will get a men's shirt, MoSistas will get women's fitted shirt. (Cannot mix a men's shirt with women's ink, also MoSista cannot order a MoBro shirt unless you grow a stache)