As Many Rounds As Possible in 20 Minutes:
5 Med Ball Cleans (20#/14#)
10 Pistols
15 Double-Unders
Results
View this photo
View this photo
See if you did this one a year ago: Previous Results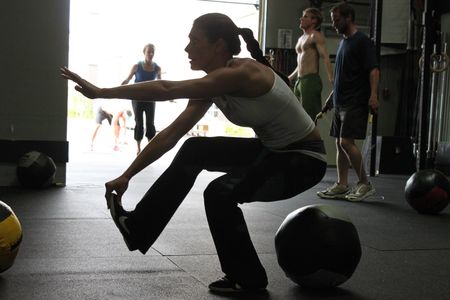 Caryn Rocking the Pistol
The pistol, also known as the one legged squat. These are a tough bodyweight movement that force concentration, balance and coordination. They also require leg strength and power. Standing up from a full pistol position hits every muscle in your leg, glutes and erectors. Our previous standard in the box for pistols to be RX'd were to hit a med ball on the squat. Today we took it further and said the goal if you had a pistol was to perform it "ass to ankle". That is what the RX+ means. Over time expect that the RX standard will be sans med ball target. Getting complete range of motion is the goal. It's not just that you wouldn't ever have a butt ball in a competitive setting; it's that the purpose of the pistol like any other exercise is to develop greater fitness while maximizing range of motion, efficiency and power.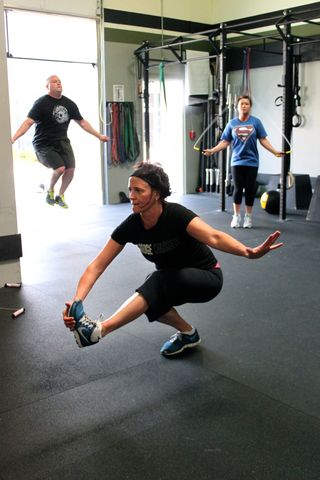 Congrats to all who got their 1st pistols today (there were a few who rang the PR bell) with either the box, butt ball or without as well as to those who PR'd. Practice them and stay flexible. You can learn them.
If you are wondering why we are changing the pistol standard? Read this post which sums it all up.
"That Standard Is Stupid" by CrossFit Montgomery County
This Wednesday night is "Mobility Strikes Back"
This structured and coach led class will focus on stretching, flexibility, and mobility. Learn techniques you can use to improve your range of motion in those muscles and joints, enhance recovery and get you back to working out or setting new PR's.
This week's focus: Calves/Achilles/Ankles and Shoulders & Scaps
When: 6/8 from 7-8pm (Runs every other Wednesday)
Cost: 

Unlimited members class is free
2x Weekly members cost is $20 per month (2 classes per month)

How: Sign-up REQUIRED on MindBody Online each class
Class Size: Limited to class size of 10 people (Must register online at above link for each class)
CF Games Update:
We are done with 2 weekends of Regionals, only 2 to go!
The Regional Update 2.3 – video [wmv] [mov]
Jeremy Instructs Pistols: