Alternate the following exercises for time:
10, 9, 8, 7, 6… down to 1 of Overhead Squat (95#/65#)
200m Run
Results
Overhead Squats – Remember armpits forward and press up!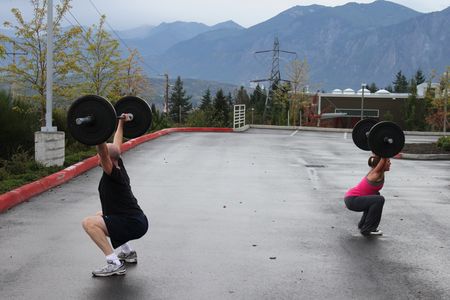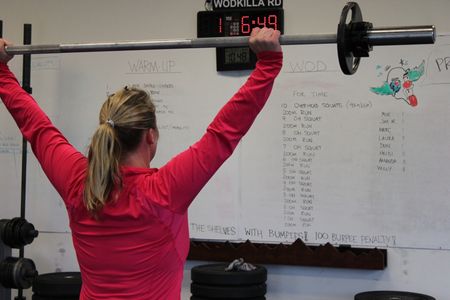 Congrats to Sean who competed today and placed 1st in the 77kg Weight Class of the WA CrossFit Weightlifting Championships at Thrush Sports Performance Center! Sean hit a total of 191kg; with 81 kg in the Snatch and 110 kg in the Clean and Jerk. That's a 12kg (26.4 lb) PR in competition over what he totaled just a few weeks ago in Colorado Springs!
It was a great performance and achievement and great support from his family and friends from the box who went to cheer him on.
Sean sporting his medal post-win: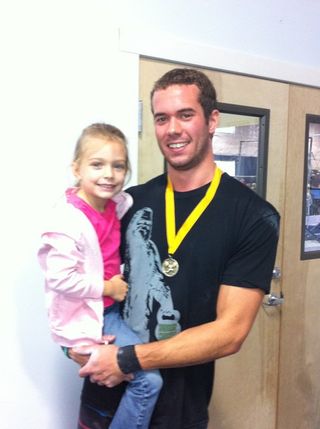 Notes:
Is all Fish Oil equal? Read this post from Rainier CrossFit and then read the article that explores imported fish oil from China. We carry Barlean's fish oil in the box and believe in their quality (which is why we take it and sell it). 
Barlean's: "Fish oil from China?  We get our oil from sardines, anchovies and mackerel from the Peruvian Sea where the waters are tested for purity.  We fish in relatively smaller quantities (compared to a lot of companies out there) for sustainability of the wildlife and for the freshness of the oil.  We then quickly ship the fish to our plant in CA where press and purify it of PCB's, mercury, lead and any other contaminants."
"Labels for some fish oil capsules leave countries of origin in doubt" – Kansascity.com