Strength WOD:
Squat Clean
1/1/1/1/1/1/1
Checkout WOD:
For Time: 
Alternate 15/12/9/6/3 reps each of 
Burpees
Squat Cleans (95#/65#)
Results
View this photo
View this photo  
Heavy Metal: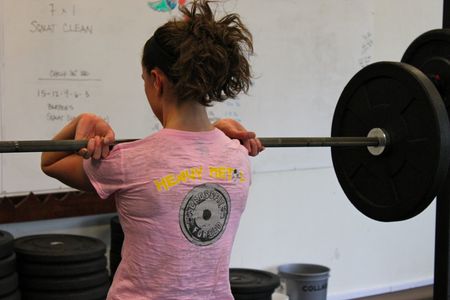 "Cleans are truly an ideal exercise for every athlete in every sport." – Bill Starr: Championship Olympic Weightlifting US Coach
Who loves the squat clean? This guy does! The full clean (or squat clean) is a great lift that hits the whole body. It's highly technical, has a lot of moving parts, and quite possibly will never be "perfect". This lift requires high skill and high levels of concentration. The demand on both the muscular system and nervous system are high, much higher than a "simple" lift like a deadlift. It wipes you quickly, and if the technique is not sound and the commitment to pull under the bar is not there, it will certainly limit reaching anywhere near your max poundage. Learning this movement is possible for all athletes; the key being practice, flexibility, speed and consistent effort. 
Burpees and PR's:
Notes:
Squatch has been traveling! North Carolina man claims he had a close encounter with "Bigfoot"
Two more reasons why CrossFit as a sport is truly entertaining to watch and cheer: Men's Epic Match-up 2: Speal and Orlando