AMRAP (As Many Rounds As Possible) in 20 Minutes: 
5 Chest-to-Bar Pull-ups
10 Wall Balls (20'/14′)
15 Kettlebell Swings (53#/35#)
Results
View this photo
View this photo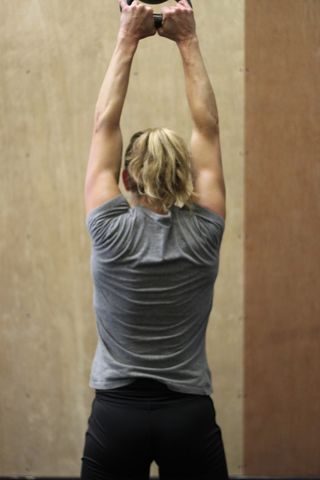 Today's WOD was a main site workout from CrossFit.com that we haven't done since May of 2011. This one leaves you with "popeye" foreamrs and no where to rest or recover but is manageable enough that you should be able to keep working. Remember chest hits bar, ball hits target, squat hits depth and swings are bell to sky, strong overhead with a tight midline every time! 
Notes:
On Friday Deb, Eloy, and Aaron W. all took and passed the SRCF Advanced Skills test. This test is the pre-requisite to entering the Advanced RX class on Saturday. Congrats to all them! If you are wondering what the test is all about ask your fellow veteran squatchers and look at the older version here (it has been slightly revised since 2010). It's a test that we recommend you only take once you feel ready but can prepare for it any and every time you are in the box.
U.S. Marines officially change their physical fitness test to include pull-ups for women.
Two things about this surprise me.
It took the Marines this long. 
The rest of our Armed Forces still don't require them for men or women (or train them). 
    * Note: The passing standard for a female Marine is only 3 strict pull-ups
For those working on pull-ups here's a ton of good resources. Do your homework and work on them.