For Time:
10 Power Cleans (135#/95#)
5 Rounds of Cindy
10 Power Cleans
5 Rounds of Cindy
10 Power Cleans
* 1 Round of "Cindy" = 
5 Pull-ups
10 Push-ups
15 Squats
Results
Quote of the Day: "That was horrible… I loved it!" ~ Jana post-WOD
PC Cindy with Nan and Jeremy O: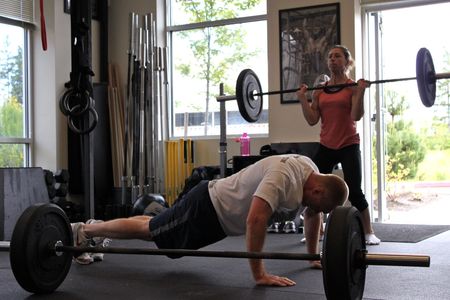 Rob and Rona rocking pull-ups together: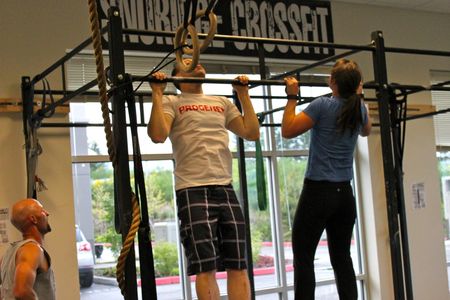 Hope you all liked this one today. We didn't like the original modified Cindy we had programmed so we made up this one yesterday after looking at a WOD called "Grindy" that follows this format. That one is a combo of clean and push jerks to make it "Grace" and "Cindy". Seeing as we just recently did Grace and then threw in thrusters this week we thought power cleans would be perfect. Judging by the feedback we got I think you agree.
Watch Eli continue his Jedi-Ninja training with new skills:
Jedi Eli from Tom Nugent on Vimeo.
Notes:
We still have some spots for the Whole 9 Workshop so get back to us ASAP.  We have also opened it up to our CrossFit friends and it is filling up fast. Let us know if you are in by shooting us an email. If you have emailed us already you are a "3-2-1 Go" for a spot.
Watch "CrossFit: Not Your Average Gym" on CNN Video