Strength WOD:
Power Clean
3/3/3
Checkout WOD:
For Time:
10 Power Cleans (135#/95#)
5 Rounds of Cindy
10 Power Cleans
5 Rounds of Cindy
10 Power Cleans
* 1 Round of "Cindy" = 
5 Pull-ups
10 Push-ups
15 Squats
Results
View this photo
View this photo
Heidi Cleans: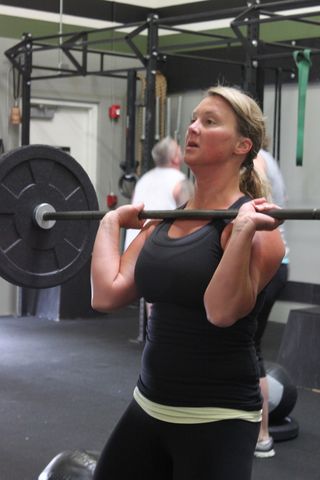 Erin ready, set, and … PULL:
That is OUTSTANDING Triple Extension!
Read: CrossFit Lisbeth: Layin' It On the Line
Friday night after the 6pm class we will be judging a bunch of peeps through the CF Games Open WOD 11.4. If you want to come cheer please feel free!
Notes:
CrossFit Kids Session 1 sign-up info will be posted Friday night. Stay tuned!
Events: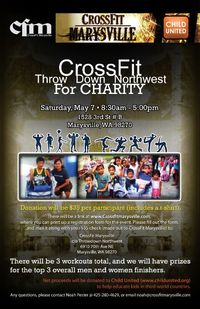 On Saturday May 7th from 8:30am to 5pm CrossFit Marysville will be hosting a Throwdown that is open to all. This will benefit the Child United charity and looks to be a really good time. There will be 3 WOD's that day and prizes will go to the top 3 men and 3 women. Cost is $35 and WOD's will be posted one week in advance. We plan to attend and help with judging and a few have expressed interest in competing.
See here for Throwdown Details and to register online. All competitors get a really cool shirt!