Strength WOD:
5-4-3-2-1
Power Clean
* 15 Min max
Conditioning WOD:
5 Rounds for time of:
250m Row or Run (Alternate each round)
5 Power Cleans (185#/135#)
15 Burpees
* Choose to start with either row or run, alternate each round (i.e. if you row first you will row rd. 1, 3, 5 and run rd. 2 and 4)
Results
View this photo
View this photo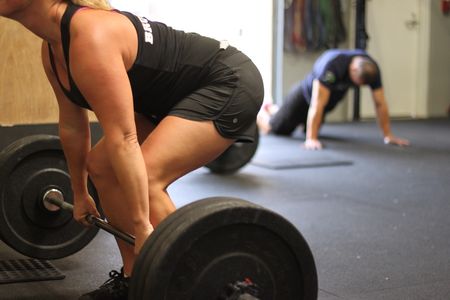 Lindsay V. from CrossFit Refinery (below) dropped in today with a group for some power cleans. Welcome!
Transition from 1st Pull to 2nd Pull on the clean; note the vertical shins and how she is maintaining position over the bar with long arms and hamstring tension: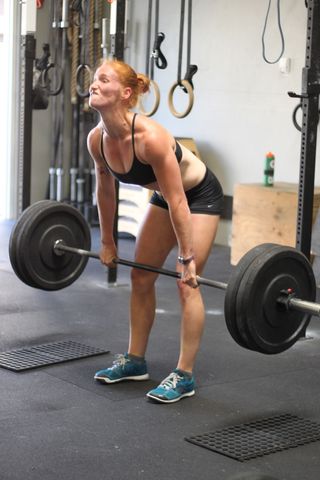 Watch this. We will work this complex into our Oly work when we snatch (1 full + 1 drop snatch – from behind the neck).
"Speed" with Coach Burgener – video [ipod] [mov] [HD mov]
Nutrition:
SFH Response to Omega 3 and Prostate Cancer Study
In addition to Pure Whey Protein we will also be carrying SFH Recovery ($55) in Chocolate and Peach Mango. Recovery is 2/3 pure whey plus approximately 1/3 essential amino acids and should be taken within 1 hr after a WOD.
Agility, speed and power on display with Stacie Tovar: