As Many Rounds As Possible in 20 Minutes:
10 Power Cleans (135#/95#)
10 Burpees
400m Run 
* Advanced RX: Scale up to 155#/105#
Results
View this photo
View this photo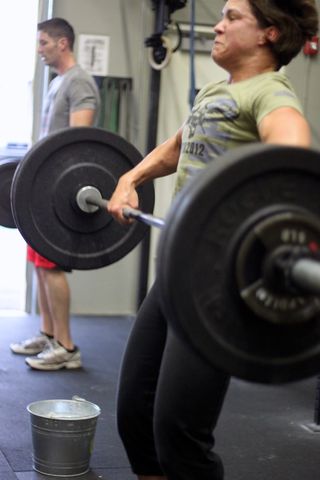 Tomorrow is 9/11. We will do a workout that incorporates the numbers 9/11 but isn't one we have done before. It will be tough but shorter in duration and won't be one of the mammoth workouts like "343" or the "9/11 Throwdown". Dedicate tomorrow to those who died that day and all since. Remember how we were attacked and be grateful for the freedoms we have. 
I love this post below that was on the CrossFit.com main site recently. 
"Brigadier General Paul Funk II just celebrated his 50th birthday on April 29th, deployed in Afghanistan. As an Armored Cavalry officer, he has always focused on fitness, but since starting CrossFit six months ago, he has worked himself into the best shape of his life. He takes each one of the 'Hero' workouts personally, and adds them to the diary of the Soldiers who have sacrificed all, while serving their country under his Command."
– Nick Bono
Notes:
The 2012 Reebok CrossFit Games begin airing on ESPN2 starting Tuesday, September 11 at 10 p.m. EST
"CrossFit Games Behind the Scenes: Friday, Part 2" free CrossFit Journal video [wmv] [mov] [HD mov]