5 Rounds for time of:
10 Power Cleans (135#/95#) 
15 Wall balls (20#/14#) 
Results
View this photo
View this photo
View this photo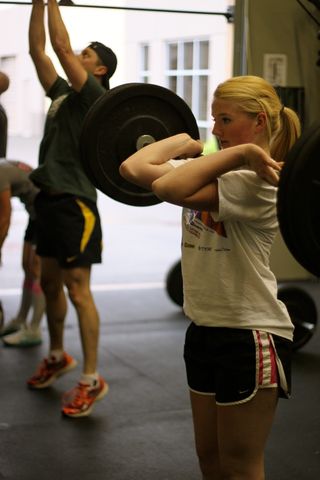 Pick up your Blue T's and your "Pick Things Up" Regionals T-Shirts this week if you pre-ordered. If you haven't paid already they are $20 so please pay first to get your shirt.
"You Can't Out-Exercise a Bad Diet" from CrossFit H20 (MA)
CrossFit Games Update: Regionals Week 4, Day 3
Notes:
CF Games: The Northwest Regionals are 3 days away! Come down and cheer on Coach Mark Buskas! Note we are CLOSED on Friday and Saturday (5/25 and 5/26). NO Classes!
Northwest Regional Preview: Week 5, May 25-27, 2012 – video [wmv] [mov] [HD mov]
Where: Puyallup Fairgrounds Americraft Showplex
When: Friday 10am to 5pm, Saturday 9:00am to 5:30pm, Sunday 8am to 4:30pm
Cost: $10 for a day pass, $25 for all 3 days
Go here for more info on schedule and to buy tickets.
Memorial Day Schedule:
CLOSED on Friday and Saturday (5/25 and 5/26) for Regionals. NO Classes! Spread the word!
Monday (5/27) we will have only three class times (11:30am, 12:15pm and 1pm)
We will run a special Memorial Day Murph workout
Official sign-up for the WOD is on the whiteboard. The 11:30am and 12:15pm slots are now FULL
If you do not sign up do not expect to get to go first by just showing up. If you didn't sign up and show up expect to wait until the 1pm wave if there is room. 
CF Teens (1/2 Murph) and their parents will have their own shot at 9:30am.
For those unfamiliar with LT Michael Murphy, aka "Murph", go to the link where you can read about this true hero and Medal of Honor recipient and what this Hero workout is. If you want to register and receive a T-shirt then you can also do so there. The shirts are pretty sick and designed by Forged clothing company and benefits go to charity.
Murph is truly a tough Hero WOD. We highly encourage scaling and will ensure each person is scaled correctly. Remember what this represents, what the day is about, and pay honor to those who have fallen. Give it your best effort, count what's legit, join your fellow SRCF community and have some fun!