Strength WOD:
Deadlift
5/4/3/2/1/1/1
Immediately after:
Max Effort:
1 Mile Run
Results
View this photo
View this photo 
Amanda celebrating her PR!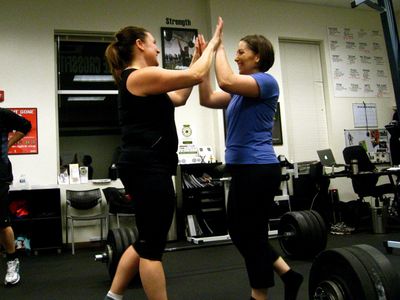 We gotta get more weights! What a day in the box today. Every single one of you had a Personal Record. EVERY…SINGLE…ONE! Deadlifts were flying up and some of you PR'd by a whopping 50 pounds. Everyone also followed this up with some blazing 1 mile sprints. We should field a track team at the next Summer Olympics at this rate. Due to this development we are going to do two things; buy skinny 45# plates to fit on the bar and order a bunch of steroid test kits. 
Pictures tell a thousand (pound) story:
Notes:
SKI Magazine sends a blogger to a CrossFit gym to get ready for ski season.
We are going to get more strict on burpees from here out. This will be the new standard for everyone except Michelle and I. Watch here for a demo: [wmv] [mov]
Oh and Travis, Michelle said to remember: "Ding – Ding"!