Practice Bar Muscle Up or Rope Climb
Choose Bar MU Practice or Rope Climb Practice
3 RFT: Rows, Wall Balls and Toes To Bars
3 rounds for time of:
Row 300m
25 Wall Balls (20#/14#)
15 Toes To Bars
BTWB
The Chaos begins tomorrow!!!  Read yesterday's post if you are unaware of what happens tomorrow.  Please bring your patience and wear your fun-pants.
If you did T2B today and come in tomorrow we will sub Kettlebell Swings. If you are registered for the Open it is your call to go tomorrow or wait to Saturday at 10:45am for the make-ups.
PR Bell Alert!!! We have 56 people signed up for the 2015 Open! That is insane and far more than we hoped for. I love the turnout and enthusiasm everyone has brought.
Today's WOD announcement was well attended in the gym by roughly 30 people and I'll get more chairs out for next week. Anyone wanting to bring refreshments (i.e. frosty beverages) feel free.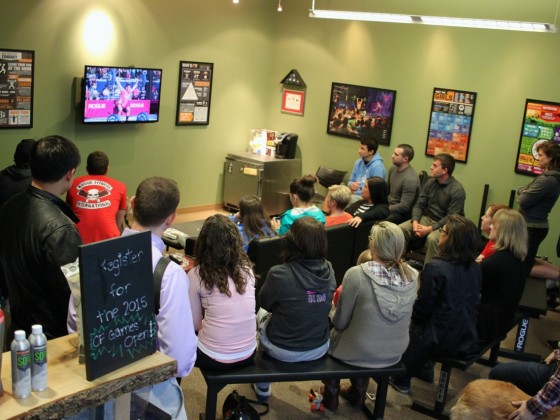 The 15.1 Open WOD information, rules, weights, scaled and teens version, etc. can all be found below.
Workout 15.1
Complete as many rounds as possible in 9 minutes of:
15 toes-to-bars
115-lb. deadlifts, 10 reps
115-lb. snatches, 5 reps
Workout 15.1a
6 minutes to find 1-rep-max clean and jerk
Perform both workouts on a 15-minute clock, start Workout 15.1a immediately after finishing 15.1.
Post rounds and reps completed for 15.1 and load for 15.1a to comments and/or register and submit your results as part of the 2015 Reebok CrossFit Games Open.
For complete workout standards, video and scorecard click here.
Watch archive footage of Rich Froning vs. Mat Fraser on Workout 15.1 and 15.1a on the CrossFit Games site.