21-15-9 Reps for time of:
Sumo Deadlift High-Pull (95#/65#) 
Overhead Squat (95#/65#) 
Results
View this photo
View this photo
"Just Pick It Up":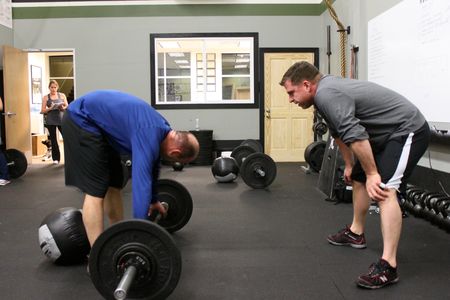 2011 CrossFit Games Open update:
Judging at the CrossFit Games Open [wmv] [mov]
The 2011 CF Games Open begins March 15th at 5pm PST and runs for 6 weeks. Several of us here at SRCF are competing (and have been training for a few months together), all with individual goals in mind. Together our individual performances will allow us to also compete as a team, with hopes that we can advance either a team or individuals to compete in the Regionals (June 10-12); as well as hoping Pat advances from Sectionals to the CF Games in his age bracket of the Master's Event. With two weeks left to "go time" many of us are to gearing up for a fun 6 weeks. Each week CrossFit HQ will announce the Open WOD for the week that everyone around the world can perform as RX'd to compete in.
Athletes have two basic options during the Open. Film it on your own with a judge or go to a registered CF Affiliate and be judged. Results will be entered to a website designed to rank everyone by gender and region. Top 60 men, 60 women, and 30 teams will advance to Regional Competition. From there the top Regional competitors worldwide will advance to the 2011 Reebok CrossFit Games at the Home Depot Center in Carson, CA to compete with a $1M total purse. 
How will judging during the Open work? See above video. We are opting in as an affiliate. We will judge strictly to the established standards that CrossFit publishes each week for the Games Open WOD. No deviation. Each athlete will have a judge. No-reps and corrections will be clearly communicated for the athlete to correct. Twice a week we will have a specific time for our own athletes who are competing to complete the WOD and be judged for their performance. Coaches included.
We will also post one time a week for non-SRCF athletes to register with us via Mindbody online or email in advance to complete the Open WOD for the week. Non-SRCF CrossFitters must register for the Open on their own and pay our drop-in fee of $20 per WOD. More details to come…
Awesome ALERT:
Get the water cooler tested. Today we saw Josh get muscle-ups and Laura get kipping pull-ups! "Contests" (ask Rona)!