For time:
800m Run 
15 Strict Press (95#/65#)
800m Run 
15 Push Press  (115#/75#)
800m Run 
15 Push Jerk (135#/95#)
* No Split Jerks. Must strict press, then push press, then jerks. One bar per athlete, change your own weight.
Results
View this photo
View this photo
From CrossFit main site today. From L to R:
"Solid. Weak Core. Tight Shoulders."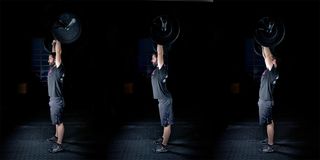 Pre-WOD Skill work and instruction emphasized the overhead press series and the proper start to finish position of each lift. Avoiding the common faults as well as emphasizing each lift during the WOD made this a great "teaching WOD". Push press the strict press? No rep. Jerk the Push Press? No Rep. Forcing each distinct movement and making the athlete manage the load on the bar became an exercise in focus and attention to detail. 
Notes:
Read "Ya Gotta Believe" by CrossFit Dad aka Rob. If you didn't see it he made the CF Affiliate Page with his Xmas Tree overhead squat yesterday too!
This looks and sounds awesome. A big CrossFit World Tour and Party? Let's hope they hit Seattle or Portland as one of the stops.
Announcing the 2012 CrossFit Tour! First Stop, Australia's Gold Coast, February 3rd through 5th – video [wmv] [mov]