21-15-9 Reps of the following for time:
Squat Clean (115#/75#)
Handstand Push-ups
Games Qualifier Training WOD:
12-9-6 Reps of the following for time:
Squat Clean (175#/105#)
Handstand Push-ups
Results
Jana inverted and doing some Handstand Pushing: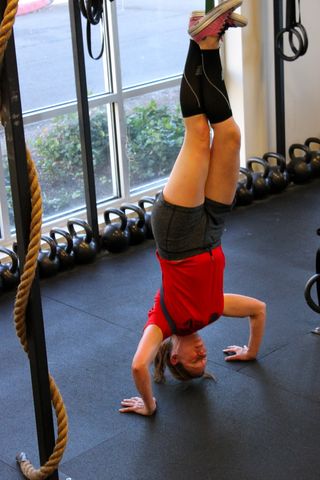 Interesting announcements, developments, and information on the direction of CrossFit HQ in the videos linked below. The most eye opening is the upcoming yet to be detailed format for the qualifiers to the Games. In the part 2 video the answer on Sectionals and Regionals format is that there will be no Sectionals as we previously knew them. There will be a 6 week video online qualifier for athletes and boxes to participate in to get to the Regional level.
While I am pretty disappointed by this announcement for a host of reasons we will do everything to support every single athlete that is interested in competing and trying to get to Regionals. If you want to compete, and want to complete and film the WOD's required then I will personally make it happen for each of you. We will post any new information as soon as we hear it. More to come.
State of the Community: Executive Panel on the CrossFit Journal