Strength WOD:
5 x 1 Hang Snatch + 1 Overhead Squat
Conditioning WOD:
Complete AMRAP (As Many Rounds As Possible) for 9 Minutes of:
5 Strict Pull-ups
10 Toes-to-bar
15 Overhead Walking Lunges (45#/25#)
Results
View this photo
View this photo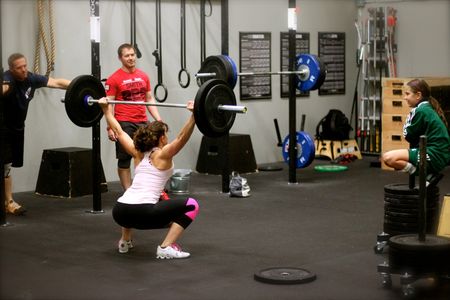 A good overview of the Hang Snatch www.catalystathletics.com
Snatch hand position with Chad Vaughn – [video]
A comparison of two different hang snatches from the dip into the 2nd Pull (finish at full extension) and landing position after 3rd pull (the pull under the bar to overhead squat) with Jules.
Series 1:
Both look relatively close. Series #1 above you can see how the first picture of the bar moving into the hips has the chest slightly too far forward and the lats and shoulders are not "on". By being a little too far over the bar and in the toes, the "finish" or hitting extension on the 2nd pull has to be even more aggressive which makes the athlete more likely to leap forward. You can see this in the feet moving forward in the last picture. This causes the landing position to be forward with the bar overhead, with the right knee diving in and leading to Jules "going for a walk" with the bar.
Series 2:
Series #2 above note the first picture Jules is more upright, with a more vertical torso with a stronger lat and shoulder position while the bar moves into the hips. The second pic shows a more aggressive finish with the bar higher while transitioning into the 3rd pull under. The feet are closer to the jumping position and not forward in the overhead squat in the last picture, with both knees more in balance and feet flatter on the floor. This was a great lift!
While the differences are subtle, this helps show the execution at the start of the lift whether from the hang or the floor is the first link in the chain to making an easy or smooth lift.